Thomas Moore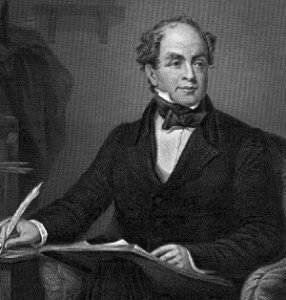 Irish balladeer, singer, and poet Thomas Moore gained fame in the first half of the nineteenth century both as a poet and as a society figure whose scandalous behavior may have overshadowed his talents.
Thomas Moore was born in 1779 in Dublin, Ireland, over his father's grocery business. Moore was one of the first Catholic students allowed entry to Trinity College in London, where he studied law.
Moore's 1803 appointment to registrar of the Admiralty in Bermuda brought him success in London society. His travels in North America were the inspiration for his first book, and upon his return to England, he married an actress, Elizabeth Dyke. As a frequent guest to London's society gatherings, Moore gained a reputation for his singing of ballads and recitations of poetry.
Although his writing and his position provided him a good income, Moore's attempts to live the same lifestyle as his aristocratic friends resulted in his incurring excessive debts. An accusation of embezzlement in his appointment forced him to leave England in 1819. While in Paris, he became friends with George Gordon, Lord Byron, and became Byron's literary executor upon the poet's death. Moore's decision, along with Byron's family, to destroy the infamous poet's explicit memoirs, later did damage to Moore's own literary reputation.
Moore returned to England after his debts were repaid, settling in Wiltshire. His poetry continued to be successful, and Moore also worked as a novelist, biographer, and translator of poetry. He published frequently, both in his own books and in the journals of the day. His reputation grew immensely upon the publication of his collection of Irish ballads, Moore's Irish Melodies (commonly known as Moore's Melodies) in 1846 and 1852. It is this collection that brought him renown throughout England as the Irish Bard.
However, Moore's life after his return was one of tragedy; all five of his children died young, and Moore himself suffered a stroke which left him unable to perform, a talent that had brought him fame throughout England. Moore died in 1852, at the height of his literary fame. Although Moore spent most of his working years abroad, he is considered Ireland's bard.
Despite his wide-ranging works, Thomas Moore is known to modern audiences primarily as an Irish balladeer. His best-known works are in the ballad genre, and include ballads that are known today as Irish standards.
Some of Moore's works include:
Believe Me, If All Those Endearing Young Charms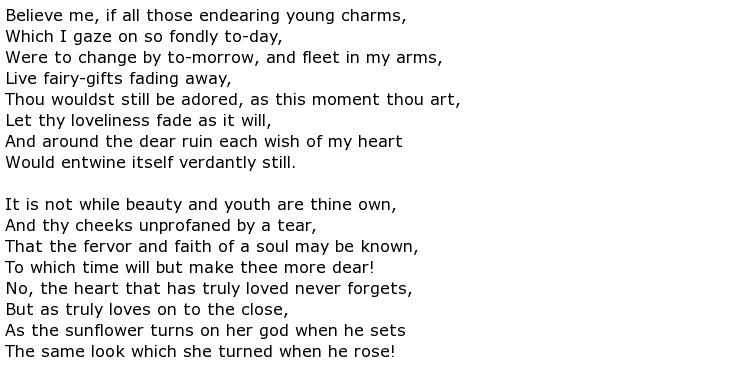 The Last Rose of Summer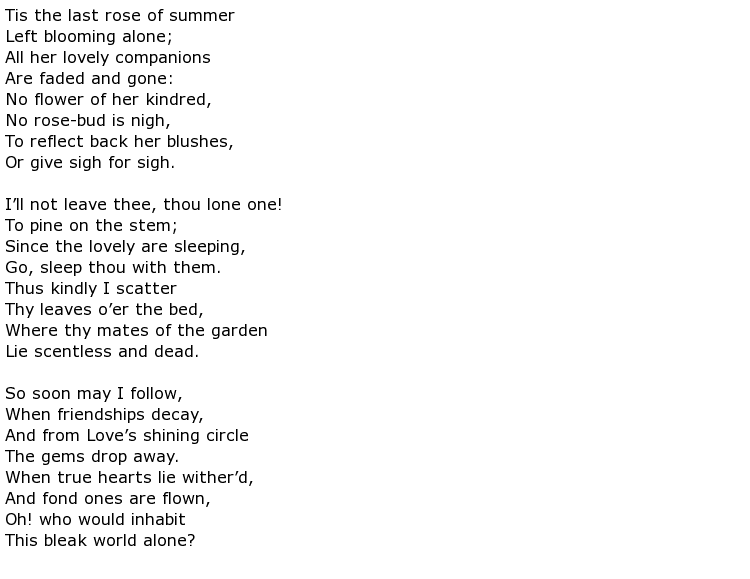 They Know Not My Heart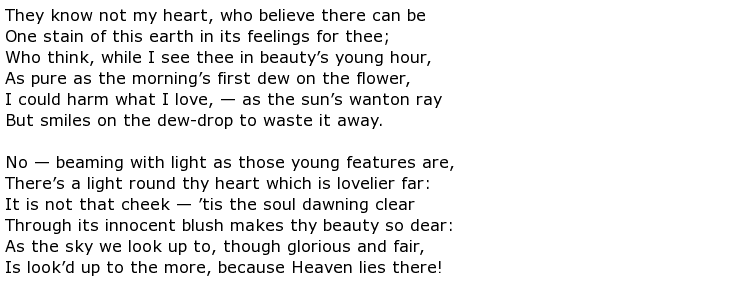 Thomas Moore Poems
'Tis The Last Rose of Summer
A Canadian Boat Song
After the Battle
All In a Family Way
Alone in Crowds to Wander On
An Argument
An Expostulation to Lord King
An Incantation
And Doth Not a Meeting Like This
As a Beam O'er the Face of the Waters May Glow
As Slow Our Ship
As Vanquish'd Erin
At the Mid Hour of Night
Avenging and Bright
Befire the Battle
Believe Me, If All Those Endearing Young Charms
By That Lake, Whose Gloomy Shore
Come O'er the Sea
Come, Rest in this Bosom
Come, Send Round the Wine
Corn and Catholics
Cotton and Corn
Dear Harp of my Country
Desmond's Song
Dialogue Between a Sovereign and a One-Pound Note
Did Not
Drink of This Cup
Drink To Her
Echo
Enigma
Erin! The Tear and the Smile in Thine Eyes
Erin, Oh Erin
Eveleen's Bower
Fairest! Put on a While
Farewell! -- But Whenever You Welcome the Hour
Fill the Bumper Fair
Fly Not Yet
Forget Not the Field
From This Hour the Pledge is Given
Go Where Glory Waits Thee
Hark! The Vesper Hymn is Stealing
Has Sorrow Thy Young Days Shaded
How Dear to Me the Hour
How Oft Has the Benshee Cried
I Saw Thy Form in Youthful Prime
I Wish I Was By That Dim Lake
I'd Mourn the Hopes
I've a Secret to Tell Thee
If Thou'lt Be Mine
In the Morning of Life
It Is Not the Tear At This Moment Shed
Lalla Rookh
Lesbia Hath a Beaming Eye
Let Erin Remember the Days of Old
Love and the Novice
Love's Young Dream
Memorabilia of Last Week
My Gentle Harp
Nay, Tell Me Not, Dear
Ne'er Ask the Hour
No, Not More Welcome
O'Donohue's Mistress
Ode to the Goddess Ceres
Ode to the Sublime Porte
Oft, in the Stilly Night
Oh For the Swords of Former Time
Oh! Arranmore, Loved Arranmore
Oh! Blame Not the Bard
Oh! Breathe Not His Name
Oh! Doubt Me Not
Oh! Had We Some Bright Little Isle of Our Own
Oh! Think Not My Spirits Are Always As Light
Oh, Banquet Not
Oh, Could We Do With This World of Ours
Oh, the Shamrock
Oh, the Sight Entrancing
Oh, Ye Dead!
Omens
On Music
One Bumper at Parting
Quantum Est Quod Desit
Quick! We Have But a Second
Remember Thee!
Rich and Rare Were the Gems She Wore
Sail On, Sail On
Shall the Harp Then Be Silent
She is Far From the Land
She Sung of Love
Silence is in Our Festal Halls
Sing -- Sing -- Music Was Given
Sing, Sweet Harp
Song of Innisfail
Song of the Battle Eve
St. Senanus and the Lady
Sublime Was the Warning
Sweet Innisfallen
Take Back the Virgin Page
The Donkey and His Panniers
The Dream of Those Days
The Fortune-Teller
The Ghost of Miltiades
The Harp That Once Through Tara's Halls
The Irish Peasant to his Mistress
The Lake of the Dismal Swamp
The Legacy
The Meeting of the Waters
The Minstrel Boy
The Mountain Sprite
The Night Dance
The Origin of the Harp
The Parallel
The Prince's Day
The Sinking Fund Cried
The Song of Fionnuala
The Song of O'Ruark, Prince of Breffni
The Time I've Lost In Wooing
The Wandering Bard
The Wine-Cup is Circling
The Young May Moon
Thee, Thee, Only Thee
There Are Sounds of Mirth
They Know Not My Heart
They May Rail at this Life
This Life Is All Chequer'd With Pleasures and Woes
Though Humble the Banquet
Though the Last Glimpse of Erin With Sorrow I See
Tis Gone, And For Ever
Tis Sweet to Think
Tis the Last Rose of Summer
To Ladies' Eyes
Translation From the Gull Language
Twas One of Those Dreams
War Song
We May Roam Through This World
Weep On, Weep On
What the Bee Is To the Floweret
When Cold in the Earth
When First I Met Thee
When He Who Adores Thee
Whene'er I See Those Smiling Eyes
Whene'er I See Those Smiling Eyes.
Where is the Slave
While Gazing on the Moon's Light
While History's Muse
Wreath the Bowl
You Remember Ellen

Timeline


Timemap