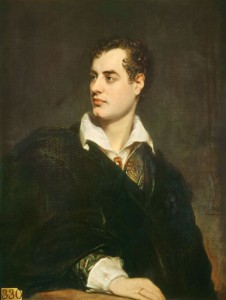 Long considered as one of Great Britain's most revered poets, Lord Byron was undoubtedly a master of the Romantic movement. Certainly, his poetry was as colorful as his life style. Byron, whose full name was George Gordon Byron, was born into aristocracy, as his father was from a long line of military officers and his mother was heiress to the Scottish estate, Gight. However, his father was quick to develop debts and ended up squandering any money that might come his way.
Lord Byron, himself, came into a financial legacy after his father passed away. When Bryon's great uncle passed away, Byron inherited Newstead Abbey, located in Nottinghamshire, and gained the title of 6th Baron Byron of Rochdale. His mother and he had frequent disagreements during his childhood, and she often indentified him as a "lame brat." This latter comment dealt with the fact the Byron was born with a 'club foot,' which caused him considerable frustration and embarrassment throughout his life.
In spite of this, Byron managed to create for himself a special place in the world of British literature. His masterful writings include such lengthy works as Childe Harold's Pilgrimage and Don Juan. Perhaps one of Byron's most engaging pieces is She Walks in Beauty. Considered as one of his most popular and well known poems, She Walks in Beauty is shrouded in controversy. Although some believe it referred to a recent widow in mourning, most agree that it was written about his half sister, Augusta. It is reported that he had a relationship with Augusta, which was just one of many of Lord Byron's scandalous affairs.
She Walks in Beauty
by Lord Byron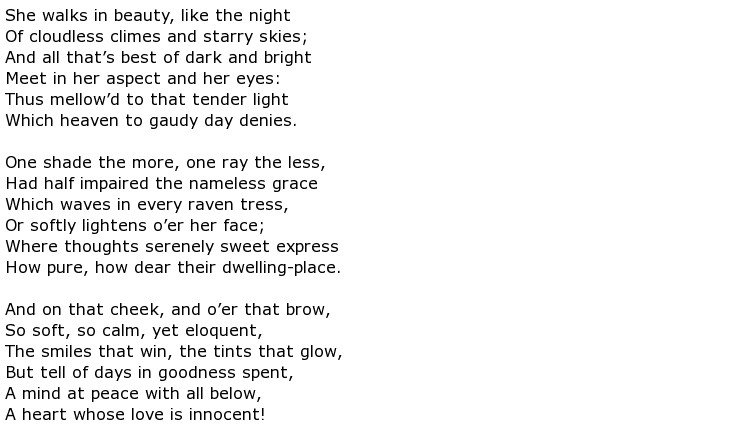 One of the notable contributions Byron made to poetry and literature in general, is what is often referred to as the Byronic Hero. In short, the Byronic Hero was someone who, in spite of possessing greatness, was also quite flawed. Many say that this 'hero' character was in many ways, a self-description. Byron often saw himself as one had some rather extensive qualifications, yet fell short because of such personal flaws as his deformed foot. A description of one of these Byronic Heros is found in his poem, The Corsair.
The Corsair (excerpt)
by Lord Byron

Perhaps Byron's greatest work was Don Juan. Although he released the first portions of this work under an assumed name, he later laid claim to the entire work. However, due to its rather shocking contents, this epic tale found great displeasure among many of his time. In fact, his own publisher refused to publish the last several installations of the poem. Many consider Don Juan to be the greatest narrative poem since Paradise Lost, written by the incredibly cherished John Milton.
Don Juan (excerpt)
by Lord Byron

Byron was considered by many of his time to be the most significant poet in history. Although extremely popular among scholars in the United States and England, much of Europe holds him in even higher regard. Several 'Byron Societies' have been established in honor of Lord Byron's contributions to English literature specifically, but to world literature as well.