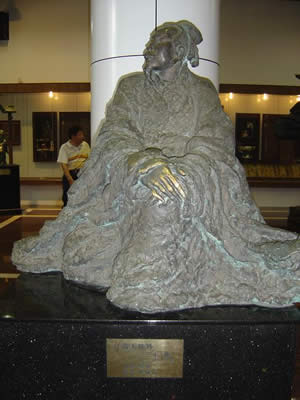 Wang Wei" width="300″ height="400″ class="alignright size-full wp-image-975″ />One of the most well-known poets of the Tang dynasty, Wang Wei was born in 699 in Shenshi. His parents were both well-educated, and Wei followed in their footsteps, sitting for and passing the shin-shih at the age of 23. His success in those exams ensured him entry into the literary circles of the city. Wang was appointed the Assistant Secretary for Music, but soon found himself exiled to the Shantung provinces where he remained for several years. Upon his return to Chang-an, then the largest city in the Chinese world, he married and began to establish his own estates. Wang's wife died when he was thirty, and he never remarried.
Wang spent much of his life in government service, both in Chang-an and in posts to outlying districts. In 750, he retired from service to paint and write. Captured by An Lushan rebels in 755, he was forced to collaborate, and when the Imperial dynasty returned to power, he was briefly imprisoned as a rebel. By 761, however, he had returned to government service, where he remained until his death in 766.
Wang Wei wrote over 400 poems during his life, many of which are widely anthologized. His poetry views the world with detached compassion, espousing Buddhist philosophy. His poems have been widely translated into English by many poets and writers, leading to a wide variety of translations of his work. He wrote almost exclusively in quatrains, many of which depict quiet scenes of water and mist. A versatile talent, Wang was also a painter, and his black and white landscapes of those same subjects are famed early examples of Southern landscape art.
Wang's most well-known poetry is the Wang River Collection, which includes his poem Deer Park. His work has inspired other poets throughout the ages, including Ezra Pound, whose Cantos attempt to synthesize East and West and use an ideogrammic structure that the poet based on Wang Wei. The most well-known translations of his work were done in 1959 by Chang Yin-nan and L.C. Walmsley.