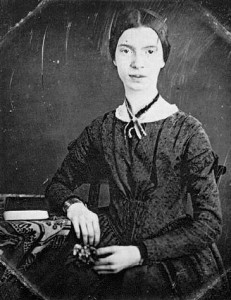 Almost unknown as a poet in her own lifetime in the Victorian era, Emily Dickinson came to be known as one of the foremost of American poets after her work was rediscovered in the 20th century. Modern readers were able to appreciate what 19th century readers were not; Dickinson's short, often untitled poems, with their unusual rhyming schemes and non-standard capitalization and punctuation were considered too abstract and jarring for the gentler Victorian tastes, but for the modern reader, remain refreshing, despite the recurring themes of death and despair.
Born in 1830 in Amherst, Massachusetts, Emily Dickinson's family was well-known and widely respected within the community. Dickinson herself also became well-known to the community; however, she became nearly infamous for her bizarre behavior – such as dressing only in white – and her refusal to leave home or even her room after completing her education.
Despite the fact that she rarely left her home, Emily Dickinson had many friends with whom she corresponded and shared some of her poems. Besides the poems she shared with friends, very few of Dickinson's poems saw the light of day during her lifetime – fewer than twelve were published before her death.
Therefore, the story of Emily Dickinson as a poet actually begins after her death in 1886, when her sister Lavinia discovered Emily's collection of poetry, copied carefully into manuscript books, as though Emily intended for them to be found after her death. The first collection of Emily Dickinson's poetry was published four years after her death by her friends Mabel Loomis Todd and Thomas Wentworth Higginson; this collection, however, was edited considerably in content in order to make Dickinson's poetry more accessible to the Victorian-era reader.
This first collection of 115 poems was an unqualified success; the demand for poetry by Dickinson was such that two more collections appeared within six years.
These poems were not, however, the same versions of Dickinson's poems that are known to modern readers. The heavy editing courtesy of Todd and Higginson made Dickinson's poetry more palatable for the tastes at the time, but it wasn't until Thomas H. Johnson compiled Dickinson's original poetry manuscripts for publication in 1955 that the unadulterated versions of her poems were seen.
Among Dickinson's best known poems are:
Because I could not stop for death: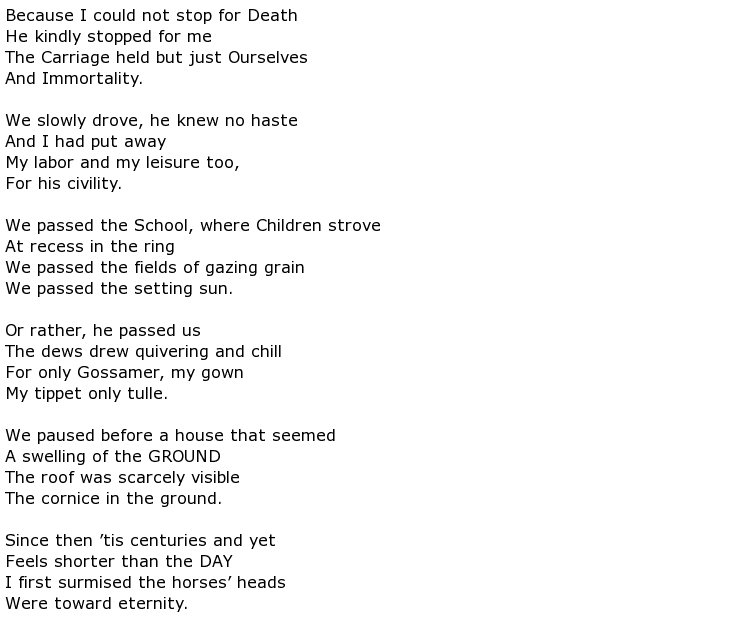 Heart! We will forget him!

I heard a fly buzz