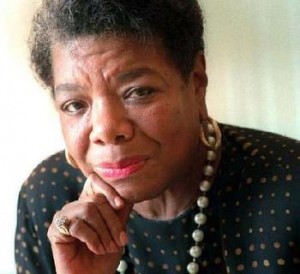 Some may know her as Marguerite Ann Johnson, but most of the world calls her Maya Angelou. This is one of America's most notable contemporary poets. But she's more complex than that. Her list of professions is long and diverse:, author, playwright, civil rights activist, film producer, professor, television producer, film director, actress, dancer, and finally, a poet. Born in 1928 in St. Louis, Missouri, Angelou had a rather traumatic childhood. At the age of eight, her mother's boyfriend raped and abused the young girl. She told her brother about the incident, which ultimately resulted in the man's conviction and sentencing. For whatever reason, he was released a day later; however, four days after his release, he was found murdered. Angelou believed that she had somehow caused the man's death with her voice. The result was a period of selective mutism, where she refused to speak for nearly five years. It was during that period that she apparently developed her appreciation for literature and books. She also developed a special gift for observing things happening around her, listening to every word that was spoken. This was also the time during which her skill at memorization expanded tremendously.
She changed her name to Maya Angelou while she was working as a Calypso dancer in San Francisco. She began her writing career in the late 1950s in New York. She also developed her acquaintance with Dr. Martin Luther King, Jr. and several other contemporary civil rights activists. Furthermore, she wrote several autobiographies and began writing and publishing poetry in the early 1970s. Her first official collection of poetry was published as Just Give Me a Cool Drink of Water 'Fore I Diiie. Perhaps her best known piece of poetry is On the Pulse of the Morning. She was present for the inauguration of President Bill Clinton, and read that poem as a part of the inauguration ceremony.
On the Pulse of the Morning (excerpt)
by Maya Angelou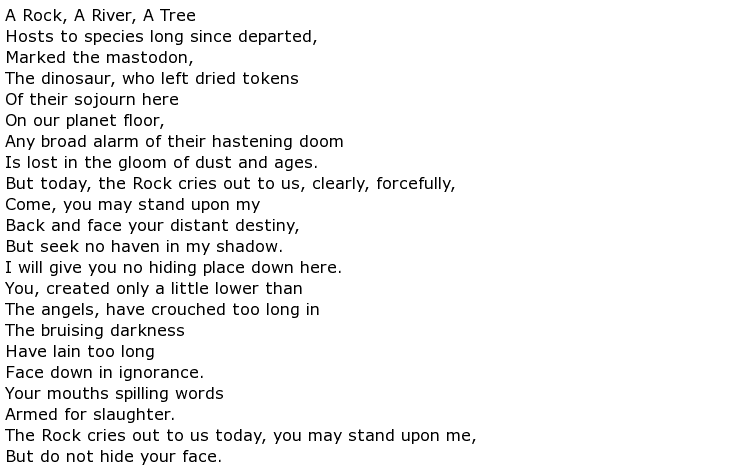 Another of her better known poems was written in response to the death of the immensely popular singer, Michael Jackson. Although Angelou was not present at any of the memorials held for Jackson, her poem, We Had Him, was read by Queen Latifah at the Staples Center in Los Angeles, California.
We Had Him
by Maya Angelou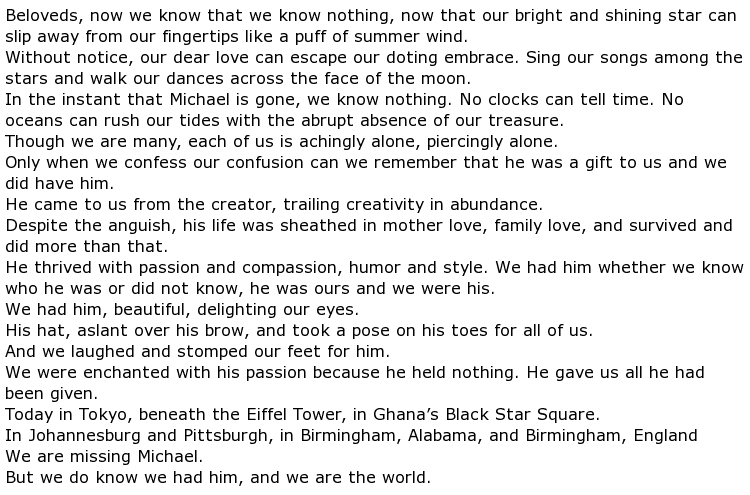 Angelou's poetry has received mixed reviews over the years. Many of the critics of contemporary poetry consider her poetry as "popular" poetry, claiming that it requires no real cognitive efforts on the part of the reader. Others argue that her poetry has always been intended to reach a wider audience, and that it is more "representative" in its purpose.
Although her poetry is used minimally in the public school classroom, her autobiographies have gained significant attention. Her first autobiography, I know why the Caged Bird Sings, has received worldwide acclaim and is used extensively in classrooms throughout the United States.
Angelou passed away at Winston-Salem, North Carolina on May 28, 2014.