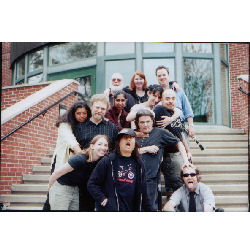 You may have noticed the little discrepancy in the date here – yes, we"re writing this week"s Wednesday"s Poet on Thursday. That"s because on Wednesday evening we had the pleasure of sitting on the grass at Walden Pond and listening to Dr. Michael Brown, this week"s poet, along with the performance troupe of poets he directs, Doc Brown"s Traveling Poetry Show, welcome summer with a Summer Solstice celebration of poetry. Doc Brown"s Traveling Poetry Show is one of a kind – an ensemble of poets who work together and play off each other"s pieces to weave a ninety minute tapestry of poetry that holds audiences enthralled. The individual poets in the ensemble include Melissa Bates, Simone Beaubien, Douglas Bishop Bizzoc7, Alex Charalambides, Jonathan Chin, Melissa Guillet, Gary Hoare, Valerie Lawson, Ryk McIntyre, Chris O"Carroll, Mala Radhakrishnan, jeff taylor, Kit Yan and sometimes, as last night, the Doc himself, Michael R. Brown.
Brown is a well-known face and voice in the world of slam and performance poetry whose credits include helping to organize the first international Poetry Olympics (held in Stockholm in 1998) and the 1992 International Poetry Slam Championships, performing in London, England; Halmstad, Umea and Stockholm, Sweden; Dusseldorf and Hamburg, Germany; Amsterdam, Netherlands; and Jerusalem and publishing three books of poetry. His work has appeared in dozens of publications including the West Coast Poetry Review, Poetry &, The Yearbook of Modern Poetry (1971), The Live Poet"s Society, Red Brick Review, The Underwood Review and 100 Poets Against the War. He has been called The Jerry Garcia of Poetry, a rascal-artist-angel-wonder, a radical, an extremist and possibly a threat to national security. Poet Jack McCarthy has said about him, "He has the mind of Bertolt Brecht in the body of Grizzly Adams."
While his works in performance poetry and slam have made him an established elder in that world, he is as familiar a voice in the world of "literary" poetry – on the page AND on the stage. His newest book, The Man Who Makes Amusement Rides (Hanover Press 2003), won the 2004 Cambridge Poetry Award for best book. He has been referred to in more than one venue as "a bridge between slam and academia". Asked how he feels about being characterized this way, Brown paused a moment, looking out over Walden Pond, then nodded slightly and stated, "I am. I"m an academic, a professor, a slam and performance poet, an organizer. I"m all of those things." Another pause, and then he continued, "People always want to focus on the divisions, and fail to see the connections. There"s a lot of crossover."
Michael Brown is one of those bridges. He writes for the eye and the ear, poems that read as well on the page as on the stage. He has a powerful political voice and conscience, a keen and sympathetic eye for character and a way with words that makes them linger after you hear them, sometimes for years.
Doc Brown"s Traveling Poetry Show is a part of his vision, the next step in performance, a collaborative group working together to create powerful poetry. They are a diverse group of voices that range from lyrical to strident, taking on virtually every subject under the sun. Many are acclaimed poets in their own right with individual publications and performances. Together, they were the perfect welcome to summer, on the shores of Walden Pond as the sun sank into the shortest night of the year.