In today"s news round-up we bring you the story of a poetry funding boost for Peterborough and the poem that found a new audience last week when Donald Trump made a startling announcement about Jerusalem.
Peterborough Poetry to Receive Funding Boost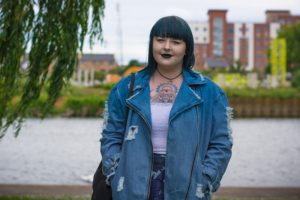 Funding of £14,000 has been awarded to Charley Genever the former Poet Laureate of Peterborough. The money which has come from National Lottery funding by Arts Council England will be used to support a project she runs called Freak Speak. The project aims to create the first young poetry and spoken word collective in Peterborough. Aimed at 14-25-year olds the project will include a series of masterclasses that will be run by some of the top poetry and spoken word talent in the country.
Genever already runs spoken word nights under the title "Freak Speak" which have attracted national headlines in the city, as well as including poets like Benjamin Zephaniah in the audience.
Her aim is to help bring poetry and the spoken word to a wider audience of young people and whilst she feels that there is already a greater interest in the world of poetry this is certainly something that could be improved. She wants to create an army of Peterborough poets who are loud and young and will help put Peterborough firmly on the poetry map.
Poem about Jerusalem Finds New Life
Following Donald Trump's surprise announcement last week regarding the US Embassy move to Jerusalem, and the fact that the US would be officially recognising the city of Jerusalem as the capital of Israel, the media and in particular social media platforms erupted; some people in anger and others with satisfaction at the announcement.
Many of them took to the various social platforms to share the words of Mahmoud Darwish, considered by many to be the preeminent modern Palestinian poet and his poem "In Jerusalem".
Darwish who died in 2008 was born in a village near Galilee. He spent much of his time in exile in many places throughout the Middle East and Europe. In the 1960's he was put into prison for reading some of his poetry aloud. With Arabic and Hebrew literature both having a major influence he was able to access the works of Federico Garcia Lorca and Pablo Neruda through translations.
Whilst the poem itself is not religious it does contain references and language that can be linked to the three main religions that are prevalent in Jerusalem – Islam, Judaism and Christianity. Darwish was a member of both the Israeli Communist Party and the Palestinian Liberation Organization, yet his work transcends any political labels. The words portrayed that which so many felt when Trump made his declaration and during the days of unrest that followed.
Here we reproduce a part of "In Jerusalem":