Today, our round up of poetry news covers the British War Hero saluted by the Scottish Makar, and the tokens left on the grave of a famous poet.
Scottish Makar Salutes Black British War Hero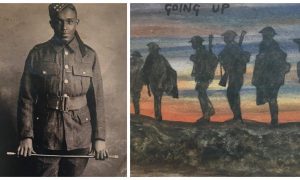 Inspired by the haunting diaries of a soldier who served during the First World War, Jackie Kay, the Scottish Makar has written several poems.
A box of photos, notes and documentation that told of the experiences of Arthur Roberts in the trenches during the war have provided the inspiration for a series of 6 poems in the run up to Remembrance Sunday. The box was found in 2006 in an attic in Glasgow, they were later turned into a book and more recently have been made into a documentary
In 1919, thousands of troops marched through London in celebration of the end of the war. However, as Kay points out, not a single black soldier took part in the Peace March. Arthur Roberts was just one of several thousands of black soldiers who, despite fighting for their country during the First World War, were not acknowledged.
Kay was appalled by this and wanted to make sure that their story isn't forgotten because it isn"t told. November will see the airing of a programme on BBC 4 which will use Roberts's own words to narrate his story, his joys and fears at the events that took place. A Scottish Soldier is narrated by Kay and she will read her poems as part of the programme.
Here we reproduce a small part of one of Jackie Kay's poems.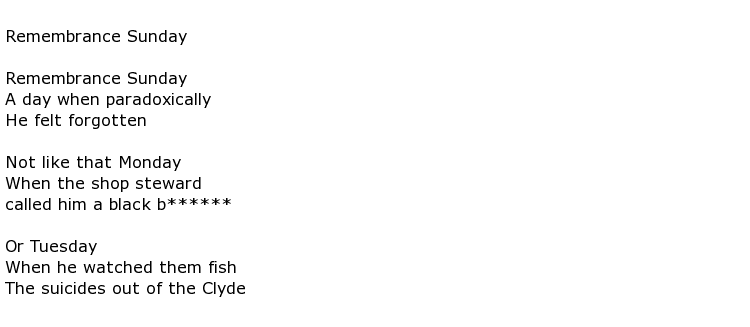 Emily Dickinson's Grave
The poet Emily Dickinson still attract fans. Now, they visit her grave and many of them leave gifts; little tokens for the poet who has inspired them.
From stones, pens and pencils, to sprigs of lavender and even a jam jar, the selection of things that people choose to leave are certainly varied.
Dickinson is buried at the Amherst Cemetery and Alan Snow, who is the director in charge of overseeing the graves and surrounding grounds says this isn"t unusual, in fact, cemeteries are busier than people might believe. The west cemetery where Dickinson is buried is busy all year long and it is believed that the tradition of leaving little tokens on her grave dates back to at least the 1930's or 1940's. This has been linked to the anniversary of the centenary of her birth when a number of new editions of her poetry were released. At around the same time her grave markers were changed by her niece.
People also leave tokens on the grave of Lavinia Dickinson, Emily's younger sister. Lavinia was responsible for ensuring that Emily's poetry was published after her death in 1886.
If you could visit a poet's grave and leave a token, who would it be and what would you leave?