We begin the week here at My Poetic side with the news of another rare manuscript that has been found and is off to auction. We also have an article about a poet accused of plagiarism.
Rare Manuscript Could Fetch Around £300,000 at Auction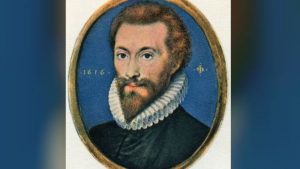 During a visit to Melford Hall in Suffolk, Dr Gabriel Heaton from Sotheby's located what he has described as a "significant find".  This is a rare, previously unheard-of manuscript, containing works by John Donne, the English metaphysical poet. Dr Heaton, who is a specialist in manuscripts, was conduction a "standard valuation visit" at the National Trust property.
The 400-year old manuscript contains 139 poems and is almost certainly one of the largest collections of work by the poet in existence.
The manuscript is a gilt-panelled leather-bound volume of 265 pages and is written in "a single attractive italic hand" it is believed to date from somewhere between the 1620's to the early 1630's. It contains not only a very important collection of Donne's work, but also some work by other writers.
Dr Heaton was very shocked to come across the manuscript, which he immediately realised contained poems by Donne in a box that contained mostly old paperwork relating to the estate. He immediately understood that what he had found was of significant importance.
The book contains a real collection of works by Donne including erotic elegies, satires, religious verse and songs and sonnets.
The manuscript will be auctioned online, ending on 10th of December and Sotheby's expect it to fetch between £200,000 and £300,000.
Poet Accused of Plagiarism by Multiple Peers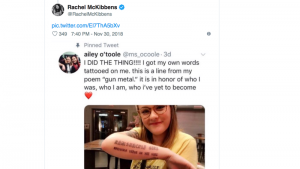 Last week saw plenty of up-and-coming writers celebrating on Twitter with their nominations to the Pushcart Prize. Pushcart honours those works that are published by smaller presses and is especially coveted amongst newer writers hoping to sell their first works. Since the nominations were announced one of the nominees has come in for significant criticism with accusations of plagiarism being made.
The poet in question in Ailey O'Toole. Following the nominations Rachel McKibbens, a fellow poet took to Twitter to state that two recently published poems by O'Toole were a plagiarism of her own work. These included the poem "Gun Metal" for which the poet had been nominated. The other is a plagiarism of some of the lines from McKibbens poem "blud" which describes a painful childhood.
McKibbens goes on to claim that is was in fact O'Toole who mentioned the plagiarism, having emailed her to advise her that



Since sending the email O'Toole has spoken in public about the poem but has never credited McKibbens.
Since the tweets, an upcoming collection of O'Tooles has been cancelled with an apology being issued by the publishers. Other publications of O'Tooles' have also been cancelled and a number of other poets have come forward with claims that their work has been plagiarised by O'Toole.