Today on My Poetic Side we take a look at the poet's pleas for more Northern voices reading the news. We also look at the poet who has been teaching writing in prisons for over 40 years.
The Bard of Barnsley's Plea Regarding T'news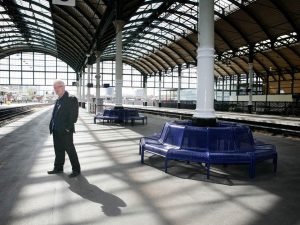 Ian McMillan, who has long been referred to as the Bard of Barnsley and is a staunch campaigner for the north of England has written an article in the Radio Times. The poet, who hails from Yorkshire, wants to know why the north is so prominent in the news all year long with talk of the HS2 and the Calder Valley flooding yet there are no northern accents to be heard amongst the newsreaders.
He wants to know if those from the north  "can't be trusted with t'autocue, tha knows". The north and its lyrical accents are, he argues, well represented in respect of actual TV programs with such fantastic shows as Cold Feet and Last Tango in Halifax. But, there has not been a northern accent reading the news since Wilfred Pickles during world war two.
The gauntlet has been thrown down, Perhaps McMillan will even put pen to paper and write a poem in support of the challenge. Maybe soon the poetic sounds of a Yorkshire voice will read the news once again?
Changing Lives Through Poetry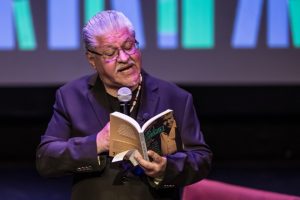 Luis J Rodriguez, the former poet laureate of Los Angeles, has been visiting prisons in California for the last 40 years. As a young man, he lost 25 friends to street violence and drugs and was a member of his own youth gang. It is this past that has led him to follow the one that he has now chosen.
When he first began visiting prisons to teach writing to the inmates, he was met with a lot of resistance, not from the prisoners themselves but from the administrators of the prison and the officers. In recent years, he says that he has seen a significant rise in the welcome that he has received, and he is now encouraging other education programs to follow in his footsteps.
In the 80s, he said he saw lockdowns and riots, not that prisons are a place with artists and musicians on the rise. Violence and drug use have now decreased and life for everyone is just that little bit easier.
Rodriguez first rose to fame in 1993 with Always Running, his 1993 memoirs that were inspired by his years in a Los Angeles gang, something that almost lost him his life. Since then he has opened a bookstore, a cultural centre and written a wide range of books including poetry, children's books, novels and non-fiction. This is what led to his being made poet laureate of Los Angeles, a position that he held from 2014 to 2016.
He believes that his work has helped to bring people together, a theme that is very prominent in one of his books. His work visiting prisons has taken him all over the world. He is inspired by the change that writing can make to their demeanour; tough guys becoming suddenly vulnerable.