We begin another week here on My Poetic Side with a look at the first Kings Gold Medal for Poetry to be awarded by King Charles III and the remarks made about Dante at a political event.
King Charles III Awards First King's Gold Medal for Poetry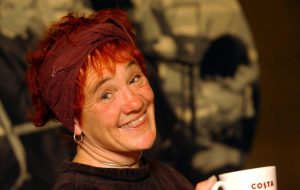 Selima Hill, the celebrated writer, has been announced by Buckingham Palace as this year's recipient of the King's Gold Poetry Award.
Hill was recommended by the current poet laureate Simon Armitage for the award, and the choice was approved by The King. Armitage described her as an "inimitable talent". This will be the first Gold Medal to be presented by the King since the death of his mother, Queen Elizabeth II, in September.
Saying Hello At The Station was Hill's first book and was published in 1984. Since then, she has gone on to write over a dozen collections of poetry, including Bunny. Published in 2001, Bunny was a collection of poems about a girl growing up during the 1950s, and it went on to be a winner of the Whitbread Poetry Award.
The poems that Hill writes are inspired by a range of different subjects, including family disputes and mental illness, as well as love.
She also likes to juxtapose objects that seem opposing, as is illustrated in the poem "Our Softness is Appalling" with the line  

The Gold Medal for Poetry was the suggestion of John Masefield the poet laureate to King George V, in 1933. It is an annual award that is given for excellence in the field of poetry. Hill will join the illustrious list of previous winners, including Siegfried Sassoon, W.H Auden, Phillip Larkin and the first winner of the Gold Medal, Laurence Whistler.
Italian Culture Minister Suggests Dante was Founder of Right-wing Thinking in Italy
Gennaro Sangiuliano, the culture minister of Italy, caused something of a stir over the weekend when he claimed that Dante Alighieri, the poet, philosopher and Father of the Italian language, was also the founder of right-wing thinking in the country.
The comments were made during an event which took place in Milan and had been organised by the far right part of the current premier of Italy, Giorgia Meloni. Sangiuliano stated that the poet had a

Both politicians and intellectuals on the left were quick to scorn his remarks. Leaders of some of the other political parties suggested that he leave Dante alone and likened the cultural references of the right to the likes of Trump and Bolsonaro.
Dante, who was born in 1265 in Florence, wrote in the vernacular and chose the Tuscan dialect over the more common Latin of the time. His most well-known work is The Divine Comedy. His life and legacy to the Italian language are celebrated every year on 25th March in Italy, with a day of events known as Dantedi.