Today"s poetry news round up takes a look at the mural celebrating writer in the Forest of Dean, the airport under consideration for a name change, and the poet who does not want the position of Poet Laureate.
Forest of Dean Writers Celebrated in Mural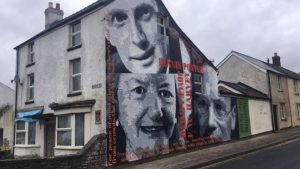 A mural has been painted on the side of The Masons Arms, a former pub, in Coleford by the artist Tom Cousins. The mural is a celebration of three local writers; playwright Dennis Potter, author Joyce Latham and poet F.W. Harvey.
The work was commissioned by Reading the Forest and it is hoped that it will inspire future generations of youngsters to become involved in writing as well as raising the profile of the literary heritage of the area.
Potter was mainly known for his television dramas, including The singing Detective. Joyce Latham penned several poetry collections and F.W. Harvey was a World War One poet who is also known as the "laureate of Gloucestershire".
Chilean Airport May be Renamed After Poet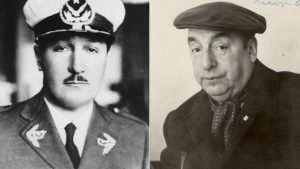 Earlier this week the Culture Committee of the Chamber of Deputies approved a bill that will look to change the name of the International Airport in Chile.
The airport is currently named Arturo Merino Benitez International airport after the commander in chief and founder of the Chilean Air Force. The Committee would like to rename it after the late poet Pablo Neruda.
In the past, similar motions have been rejected by the parliament, however, this time it is hoped that the motion will be passed and highlight the poet who won a Nobel Prize for Literature. The bill will now move to the Chamber of the lower House for voting.
BenJamin Zephaniah Says No!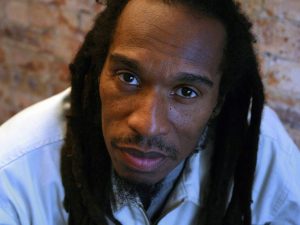 Earlier this week we reported on just a few of the names that had been mentioned as possible replacements for the position of UK poet laureate when Carol Ann Duffy reaches the end of her time in the position.
Benjamin Zephaniah was one of those names, however in a statement that he made yesterday he completely ruled out any possibility of taking up the position
Zephaniah is a very outspoken critic when it comes to the monarchy, in 2003 he turned down an OBE with the comment



When he learned that his name may be put up for consideration for the post his reaction was very similar. He tweeted



Wendy Cope, who was also on the list of possible nominations has also ruled herself out. In 1999 she was a very strong candidate for the role when Andrew Motion was appointed. She called for the position to be abolished in 2009.
John Agard, another poet, has been heard to criticise the way in which the poet is chosen for the position with the prime minster having a final say in those names that should be considered. The final decision rests with the Queen.