Today on our poetry news roundup we look at the Google Doodle dedicated to Sylvia Plath. We also have a short article about the poet honoured with a rope image on the Scottish hillside.
Sylvia Plath Honoured in Google Doodle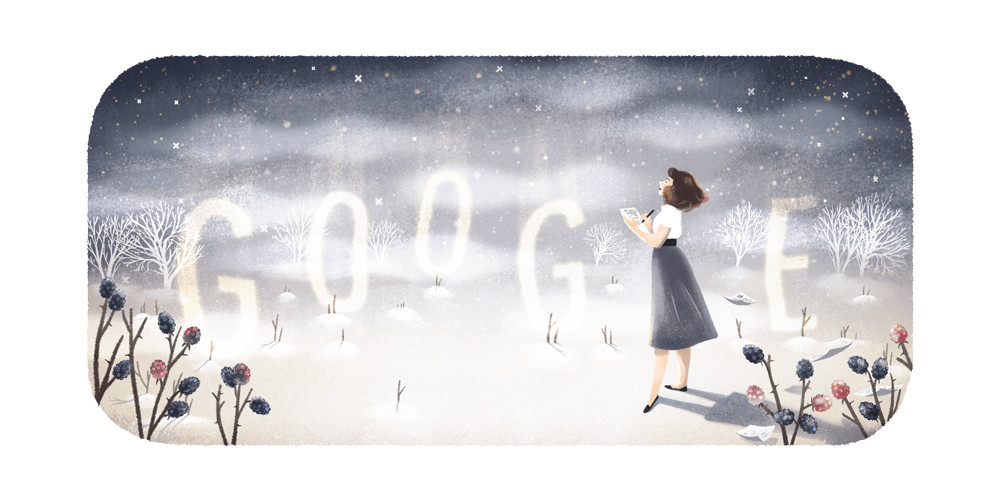 On Sunday, Googles Doodle marked what would have been the 87th birthday of the poet Sylvia Plath with a poignant doodle. The American writer was one of the leading forces behind the "confessional poetry" movement. Her candid and often exacting poetry spoke to many generations at the same time.
Confessional poetry offers writers the opportunity to open their hearts to others through the composition of deeply personal thoughts that may well touch on depression and even mental health. Whilst these are topics that are becoming increasingly spoken about now, in Plath's day they were taboo.
The Google Doodle depicts Plath surrounded by an icy wintery landscape with a pen and paper in her hands. This image is a metaphor for the style of poetry that Plath wrote, something that has sometimes been described as

The artist behind the doodle is Sophie Diao, a frequent contributor to the Google Doodles programme. Unlike other doodles for poets which reference a work, this doodle is supposed to evoke the overall mood of Plath's poetry. The mood is sombre.
Plath was very much aware of her own mental stability, and her writings on the subject were particularly vivid. When discussing her own mental health, she wrote:

Born in Boston in 1932, Plath's talent for writing was noticed at an early age. Her work was published in several places and she also won several awards. She graduated with honours from Smith College where she had to overcome a mental breakdown.
She was married to the poet Ted Hughes with whom she had two children. Their marriage was a stormy one which ended in divorce. Plath took her own life at the age of 30. The collected poems of Sylvia Plath was awarded a posthumous Pulitzer prize in 1982.
Scots poet Honoured with Giant portrait on a Hill
A huge portrait has been created on a remote hill located in the Spital of Glenshee in commemoration of the poet Hamish Henderson in order to celebrate the 100th anniversary of his birth.
Using a staggering 4000 metres of jute, an outline image of the poet has been created; not only as a tribute to Henderson but also to the fabric that has played such an important part in the development of the local area. It will also assist in launching the Cateran Ecomuseum, a new museum which will have no walls. The museum is dedicated to telling the story of the Angus Glens and eastern Perthshire.
The hope is that the new museum will connect local people not only to the landscape but also to the rich and varied history of the area which stretches back as much as 6000 years.