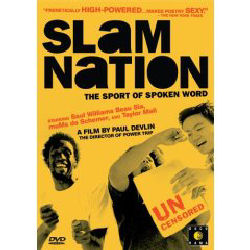 It started back in 1998 – not slam poetry. That was already into its teens. No, we"re talking about the art of documenting the Slam scene. That was the year that Paul Devlin"s SlamNation was released to rapidly become a must-own-must-see video for any fan of the spoken word scene. It documented the behind the scenes and onstage action of the National Poetry Slam.
Slam, for those unfamiliar with it, is poetry with a competitive edge. It"s raised issues with many – how is it possible to score poetry on a scale of one to ten? What happens to the poem when the focus is on the performance? How can you discount a seven minute poem that brings an entire room to its collective knees – because it is over the three minute time limit? As far back as the ancient Greeks – and likely beyond – poets competed against each other publicly for the acclaim of the crowds and the right to claim a title. In medieval times, bardic contests were a central feature of most town faires, and if one reads Elizabethan poetry with an awareness of history and biography, the rivalries for acclaim are clear in such well-known poems as Marlowe"s The Passionate Shepherd to His Love (Come live with me and be my love) and Raleigh"s response to it, "The Nymph"s Reply to the Shepherd".
SlamNation is lauded for revealing the competition, rivalries and politics of the National Poetry Slam"s backstage. Carrying on in that tradition, Mythos Studios and Slam Channel released Slam Planet: War of the Words in March of 2005. Planet follows poets from Austin and New York as they prepare to compete in the 2004 National Poetry Slam. Today, filmmaker Rotimi Rainwater"s slamumentary Sp!t, which followed a group of poets competing in the 2005 nationals, premieres at the Los Angeles film festival. It"s been screened at the Silverlake International Film Festival and LA"s Spoken Word Fest, and was named Director"s Choice of the Pan African Film Festiva, also in LA. If you happen to be in LA, you can see it at the Mann Festival Fri., June 23, 4:30 p.m.).
You"d think that we couldn"t get more current on the art of filming slam poetry – how about next year"s documentary? Posted today on gotpoetry.com, one of the major online venues for spoken word poets, is the following ad:

TV SHOW SEEKS SPOKEN WORD POETS
Boricua Films is seeking spoken word poets to audition for a television pilot. The network TV show will feature 20 of the nations top slam poets in a Docu-Reality setting as they qualify to compete in a nationally televised poetry slam.