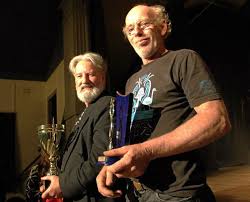 The Nimbin Performance Poetry World Cup is only a few weeks away. The 15th edition of the popular poetry competition is to be held in the first weekend of September, with last year's winner, Robin Archbold, returning to judge the competition. You can view his winning performance here.
Each poet will have eight minutes to perform one poem or a collection of poems. Poets will be judged on how close they are to the eight minutes, audience reaction, performance skills, and of course, the poem itself. There are several rounds – the heats, semi-final, and then the final. The winning poet will receive a cash prize of $2,000 while the runners-up will share $3,000 between them. There are a number of other awards and prizes given out as well, including the People's Choice Award.
A popular celebration of poetry
Over the years, there have been many standout moments, from poets stage diving and outrageous costumes to acrobatic choreography and incredible props. It's important to remember that this is a performance. It's about the full package. This does not mean you need to be outrageous to take the prize, however. It's all about knowing your piece, delivering it in the best possible manner, and captivating your audience for eight minutes.
Plus, the poem itself can be anything, in any form and any style, leaving plenty of room for artistic expression. From poetic tales and monologues to free verse and raps, all forms of poems have been covered over the years.
Audience reaction plays a critical role in the scoring, although it is something that's hard to judge. Nevertheless, if a poet manages to get a standing ovation, full points are almost a guarantee. The audience will be a diverse set of people; compromising of poetry fans, poets, and members of the public.
8 minutes?
One thing you are probably wondering is, why eight minutes? Well, the eight minutes time limit is designed for two reasons. The first is simply for convenience and logistics; it keeps the weekend running smoothly. The second reason is because it tests the poet's endurance. Getting as close to the eight-minute mark as possible is so important, and can be the difference between 1st and 2nd place, as was the case last year.
We can't wait to see the different entries and we'll be sure to the post the winning performance so you can check it out yourself!