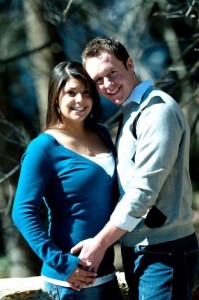 The words from Ecclesiastes remind us that there"s a time weep and a time to laugh. Yesterday"s articles were more somber, dealing with the reality of death and the emotions that such losses bring to us. Today focuses on the second half of that line from Ecclesiastes, a time to laugh. I"d guess that love has been the most common topic of poems, but humor surely comes in a close second place. The whole idea of playing with words, exploring nuances of meanings and employing wit and humor are some of the more enjoyable aspects of poetry from all sources. Whether from the perspective of ancient cultures or that of the modern technologist, humor in poetry abounds.
Consider for a moment the Medieval ballads of the Scots. In particular, an enjoyable poem written in ballad form is Get Up and Bar the Door. It"s origins are obscure, but it was quite popular with bards throughout the land.
Get Up and Bar the Door
by Anonymous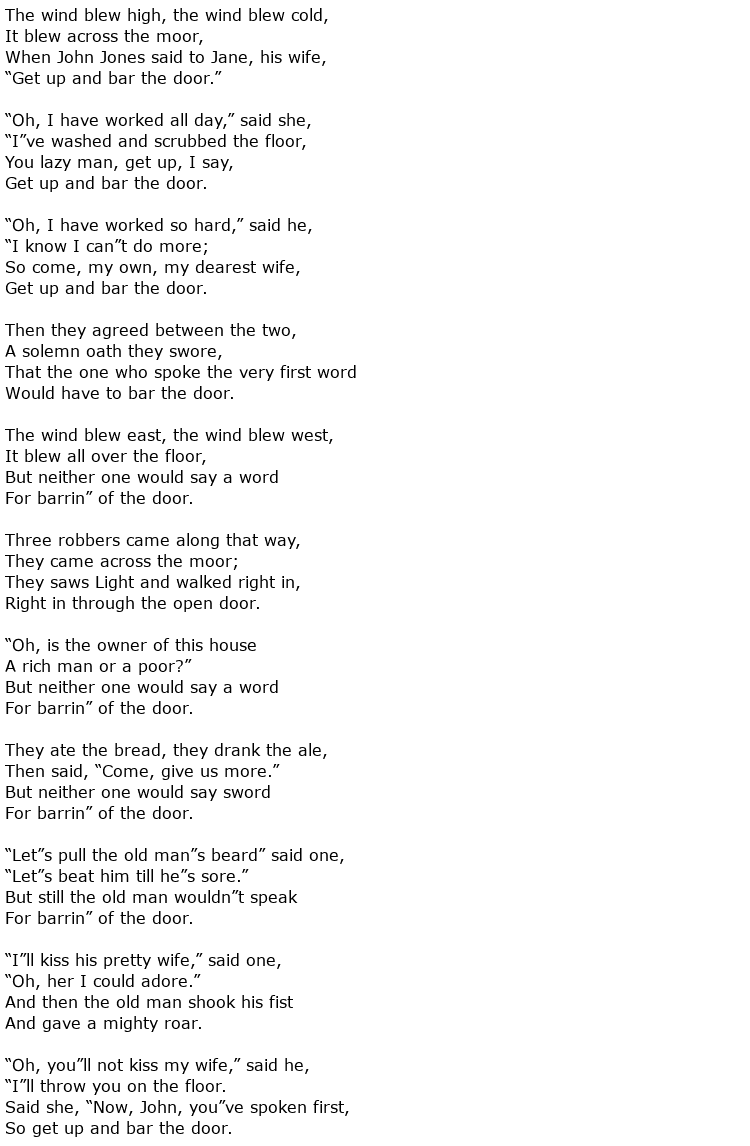 Then, of course, is the often popular limerick. Found as far back as the 1800s, the limerick is generally a five verse poem with an AABBA rhyme scheme. Most often they are humorous, and frequently border on the obscene. According to several noted writers, including George Bernard Shaw, the intent of the limerick was always to be obscene, with the purpose of violating some prominent taboo. Noted author Gershon Legman assembled an anthology of some 1,700 limericks; the works were first published in France, and then later in the United States under the title Limericks. Legman, an American born writer, ran afoul of the US Postal Service for sending out copies of his self published book, Love and Death, which authorities considered indecent and vulgar. Here are some untitled samples from unknown origins.
(Untitled)
by Anonymous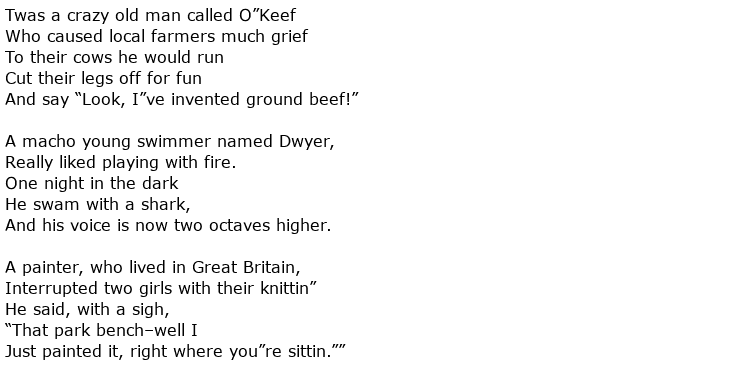 As I searched through the massive numbers of "humorous" poems available on the internet today, I came upon the works of a young man by the name of Evan James Griffin. The account from his website indicates that Griffin has been writing humorous poetry since his high school days when he would intentionally provide questionable verses that were intended to embarrass his teachers. Sometime during his high school years, his mother discovered a cache of his works in a manila envelope. She thought that her son had some real talent and so encouraged him to continue. Offered below are just a few of his poems.
Pinterest Poem
By Evan James Griffin
My Enemy
By Evan James Griffin

Well, I do hope that those who have visited this site have enjoyed my first week of topics and selections. The assignment here is both rewarding and challenging, as the choices of available poems is vast and diverse. Of course, there are always those who will say, "But what about . . . " — I think it should go without saying that there will always be many equally appropriate choices which will have been passed over in favor of some other writing. Certainly, if anyone feels that a better example has been missed, I encourage them to make a comment and included the properly credited work within. Thank you for your time. I"ve never claimed to be a great poet, but I can"t resist but to offer just one parting thought:
Writing About Poems
by Scott Berry