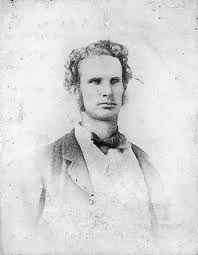 Born in 1833 in the Azores, Adam Lindsay Gordon was one of the premier Australian poets of the 19th Century although he was little recognized in his own lifetime. His father was traveled through India and Australasia before settling back down in Cheltenham, England, where Gordon went to school. Whilst he was an accomplished sportsman he was not the most dedicated student, even when he moved to a military academy in Woolwich.
His academic career ended in expulsion and the adoption of a rather hedonistic lifestyle that saw him incurring debts and living the life of a wastrel. This lack of direction prompted his father to send Gordon to Australia to join the mounted police. Gordon was aware that he needed to rectify his life and it is reflected in some of his poetry from the time such as To My Sister.
So it was that, at the age of 20, Gordon found himself docking in Adelaide where his new life would begin. He worked for two years in the mounted police before resigning his commission and, settling into a life of horse breaking. He gained the reputation of being a competent horseman winning some races as a jockey, something that he would continue to do for the rest of his life.
Whilst he was living near Cape Northumberland, a ship ran aground and all souls were lost, prompting one of Gordon's most well-known poems The Ride from the Wreck. He married in 1862 and settled in Port MacDonnell, writing The Feud, and began to make a name for himself in politics. He was invited to seek election, won his constituency, and spent the next couple of years delivering colorful speeches in parliament. It was a short lived foray into political life and he resigned a few years later, moving to Victoria.

Cowley continued to race horses despite having a serious accident that nearly took his life. His finances were not improving, after several failed ventures, and his sight was beginning to deteriorate. He made some money riding but also had several other falls that further damaged his health. For a while he managed to sort out his financial affairs and moved with his wife to Melbourne. However, it was only a temporary respite and he soon fell into financial difficulties again.
In 1870 he published his last volume of work Bush Ballads and Galloping Hymns which contained the poem The Swimmer, seen as a prime example of his work and which was eventually put to music by Edward Elgar. Whilst it was not very successful at the time, it was later seen as one of the seminal works of Australian poetry in the Victorian era.

Unfortunately, Gordon discovered that he had no money to pay for the publication of his final work and that there wasn't much prospect for the future. Shortly after Bush Ballads was published, he went out into the country, supposedly under the influence of drink, with a shotgun and killed himself.
He was buried at Brighton General Cemetery and a few years later a monument was erected to commemorate his life. He is the only Australian poet to have a bust on display in Poet's Corner in Westminster Abbey.