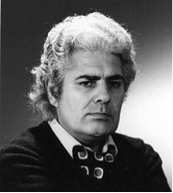 The Persian poet, also known by the surname Shamloo, or in his homeland as Ahmad Šāmlū,  occasionally used the pen name A. Bamdad when writing poetry or working as a journalist. Many critics consider him to be amongst the most influential poets in modern-day Iran. While on first appearances his poetry suggests complexity, relying heavily on imagery, it is actually quite simple in its message. Traditional images that would be well known to Iranian readers are often borrowed from other master poets of the region such as Omar Khayyám or Hafiz. Much of his work has been translated into other languages and he translated a number of pieces of French literature into Persian.
He was born Ahmad Shamlou on the 24th November 1925 in Tehran. His father was a serving soldier and, due to the nature of his work, took his family around the country. Ahmad's education was therefore somewhat disjointed and he led an unsettled childhood both in and out of the home. At the age of 16 he found himself studying at the Tehran Technical School and was able to learn German while there. He was still studying at 20 but he failed to complete a degree course so gave up on his education from then on.
He found himself supporting the Communist Party and, in 1954, was imprisoned for a year because of his political views which were at odds with the rulers of Iran. He was studying poets from other countries though and numbered among his influences the German Rilke, Spaniard Lorca, Frenchman Eluard and the American work of Langston Hughes.
He was passionately interested in Iranian folklore and produced a major piece of work called The Book of Alley which ran to thirteen volumes. It has been said that this work has been a great boon to those studying the beliefs and language of Iran. He also wrote plays, novels and some screenplays for the Iranian film industry. His disruptive schooling does not seem to have upset his literary talents in any way and he was quoted as saying the following:



Shamlou"s first collection of poetry was called Forgotten Songs and was published in 1947. It was a collection of modern and classical poetry and he followed this by making regular contributions to a literary periodical called Sokhan-no. A second collection appeared four years later called Manifesto and it was around this time that his socialist tendencies manifested themselves. He took on a job at the Hungarian embassy as cultural advisor.
Here is an example of one his poems, a fairly abstract piece called Come the Night: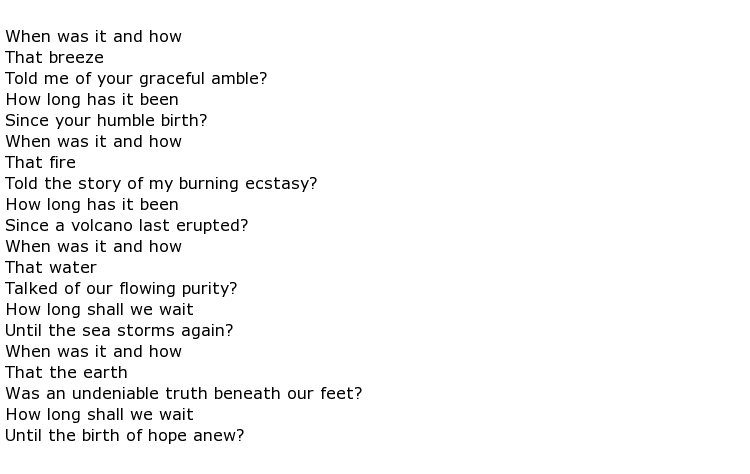 Perhaps it was his growing notoriety in Persian society that caused his third collection of poetry – Metals and Sense in 1952 – to be first banned and then all copies confiscated and destroyed by the police. Things got a little easier for him during the next twenty years as he continued to write and publish his work although, in 1966, he found his literary magazine subject to a banning order by the Ministry of Information.
Shamlu left Iran in the 1970s as he was not in favour with the Shah's regime. He moved to the United States and then to Britain for a time. The 1980s saw him living a secluded life while still writing regularly but this was interrupted when he was invited to do a lecture tour throughout Europe, and this was repeated in the early 1990s. Further tours of the United States and Canada established his name as one of the greatest figures in Iranian literature.
His health was beginning to deteriorate though and he suffered from diabetes, resulting in a number of operations including the amputation of a foot. Complications following one of his operations claimed his life.
Ahmad Shamlu died on the 23rd July 2000, aged 74.