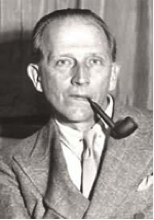 Alan Alexander Milne was the famous writer of the much-loved Winnie the Pooh stories and is more generally known as A. A. Milne.  Born in Kilburn, London in 1882 he spent his formative years living in a small independent school which his father, John Vine Milne ran.  A. A. was fortunate to have visionary novelist H. G. Wells as one of his teachers there.  He went on to study at Trinity College, Cambridge  after studying first at Westminster School.  Up at Cambridge his writing talents blossomed and was soon noticed by the humorous magazine "Punch".  He was invited to contribute whimsical articles and poems at first and later was appointed assistant editor.
Like most writers, Milne numbered among his friends others in the same profession but there was an unfortunate incident during the Second World War when he and the author P. G. Wodehouse fell out over Wodehouse's broadcasts from Germany.  P.G. had been captured in France by Nazis and they used him as a propaganda tool to make broadcasts to the British people.  In common with his written works, the broadcasts were in a "sending up of the Germans" style but many, Milne amongst them, took exception to this form of co-operation with the enemy.  It was a friendship lost but P. G. got his own back to some degree by parodying some of his former friend's Christopher Robin poetry in later written work.  Wodehouse tried to make light of the whole affair by claiming that Milne…….

During the 1920s Milne was a prolific writer of plays and novels along with his poetry.  He had a real talent for children's' verse and his first collection When We Were Very Young, beautifully illustrated by E. H. Shepard, who was a Punch staff cartoonist came out in 1924.  A year later the world was introduced to the "bear of little brain" – Winnie the Pooh – through a short story collection titled Gallery of Children.
On the theme of charming little bears, here is Furry Bear: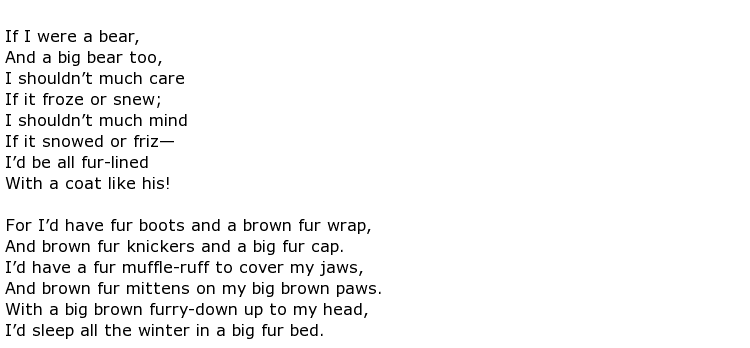 The Winnie the Pooh stories included, of course, a little boy called Christopher Robin and Milne drew inspiration from the playtime antics of his own son, Christopher Robin Milne.  The real-life boy had a number of stuffed animals including a bear which was originally called "Edward", a tiger ("Tigger") and a gloomy looking donkey ("Eeyore").  These famous toys which inspired characters loved the world over by both young and old still exist in a New York museum display.  It could be argued that the characters in the Pooh stories were part of the greatest children's stories ever told.
The books Winnie-the-Pooh (1926) and The House at Pooh Corner (1928) were published either side of Milne's second collection of nursery rhymes in 1927 – Now We Are Six. His output following these was prolific and his work was loved on both sides of the Atlantic in equal measures.  It was a slight irritation to him though that the reading public seemed to categorise him as a children's writer when he really wanted to write exactly what he wanted to write.
He collaborated with other writers, such as Kenneth Grahame, adapting The Wind in the Willows as a stage play called Toad of Toad Hall.  As he approached his seventieth year he unfortunately suffered a stroke in 1952 which pretty much made him an invalid.  Without the stimulus of work he died aged 74, in 1956.