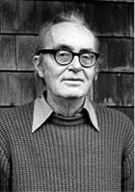 Alan Dugan was an American poet who published seven volumes of poetry over a forty year period from 1961-2001 and picked up countless honours and awards along the way. His poetry style was generally considered to be the down to earth, plain speaking type and one reviewer compared the language he used as being like that of "your typical bartender". No flowery prose or fanciful notions for Alan Dugan, but it was the kind of poetry that people would keep going back to. He wrote with consummate skill and was never afraid to criticise icons of American life through his clever use of irony. His seventh volume of poetry was reviewed in the New York Times thus:



Alan Dugan was born in February 1923 in the district of Brooklyn, New York City although he spent the early years of his life in Jamaica, Queens. His education was interrupted by a call up to the US Army Air Force in 1941 but he was able to resume his studies after the war. He graduated from Mexico City College in 1949 with a Bachelors' degree and then embarked on a period of employment with advertising agencies, publishing houses and even as a model maker for a medical supplies company. In his spare time he wrote poetry, based pretty much on what he saw around him in everyday New York life.
His first collection in 1961, simply called Poems, won a National Book Award and a Pulitzer prize. It was remarkably successful for a first book and immediately established him as a poet of substance. He seemed to skip the usual stage of "promising young poet". He followed this up with Poems 2 through to Poems 7 at fairly regular intervals, though there was a 12 year gap between his sixth and seventh published volumes. A smattering of honours and awards came his way including the Levinson Award and fellowships from the Rockefeller and Guggenheim Foundations. As his published works gained more and more admirers Dugan found himself mentoring younger poets and he served as Director of the Fine Arts Work Centre in Provincetown, Massachusetts.
Dugan consistently wrote in an understated, ironic style which appealed greatly to readers across the United States. A comment that has been attributed to him probably goes some way to illustrating his state of mind. Seemingly distrustful of the world in which he lived he said that he "gets up in the morning and walks out into the daily accident", a mocking, unusual way to describe the everyday act of going out to face the world! He wrote about the benefits of living inside a house, as opposed to living outdoors, in his poem On Being a Householder and it is reproduced below: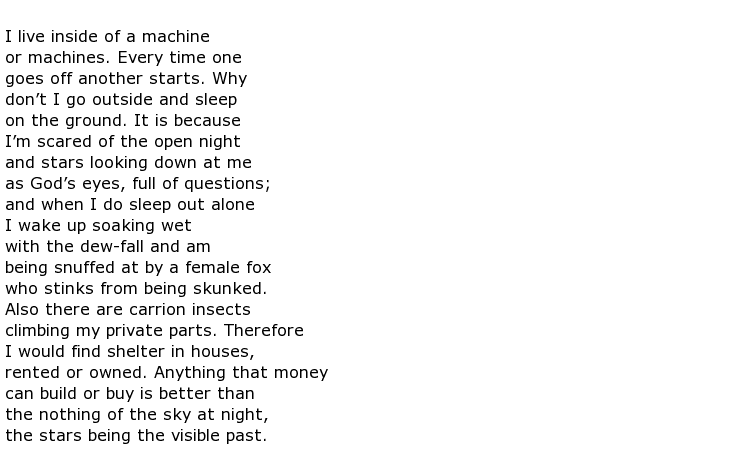 The work of Alan Dugan certainly provoked opposing views amongst many literary critics. While some would see the "sameness" of his work throughout all seven volumes as an act of stagnation, others regarded that as a virtue. The phrase "what you see is what you get" could certainly be applied to this poet. The humorous style that was apparent in many poems was one of the reasons why so many love his work. The titles alone would make some smile. Take, for example, these (from his seventh volume): The Aesthetics of Circumcision, Funeral Oration for a Mouse, and On the Supposed Immortality of Orchids.
Alan Dugan contracted pneumonia and died in September 2003, aged 80.