Albert Samain was a 19th century French writer who belonged to the "symbolist" school of writers and artists. This movement had its origins in France, Belgium and Russia and its exponents wrote from the perspective of telling the absolute truth in their poetry without making it too obvious that they were doing so. Samain wrote in a typically descriptive style that explored metaphorical imagery with distinctively symbolic meanings.
He was born Albert Victor Samain on the 3rd April 1858 in the northern French town of Lille, which is not far from the Belgian border. His parents were part of the large Flemish population of that region who ran a reasonably successful wines and spirits business in the town. Albert's education was cut short though when his father died, therefore making it necessary for him to leave school early and seek to learn a trade.
He was more interested in making his way as a writer though and, on moving to Paris in 1880, he began mixing with the avant garde society of writers and artists. His work became known around the clubs and cafes of Paris and he was invited to recite poems at a popular establishment in the Montmartre district. Le Chat Noir was a magnet for the Bohemians at that time and is thought to be one of the first of its kind where patrons could eat and drink at small tables and be entertained from a small stage. Such an intimate atmosphere was ideal for a poet such as Samain to recite his poetry to an appreciative audience.
Samain was almost certainly influenced by other French writers. He was an admirer of the "modernist" style employed by Charles Baudelaire. As a result Samain's work sometimes exhibited morbid tones with elegiac, funereal themes running through some of his poems. Many took the form of mournful laments for dead heroes. He was also an advocate of fellow countryman Paul Verlaine. While he was considered by most literary critics to be among the greatest of the "fin de siècle" French poets, Verlaine's poetry often contained indecisive, somewhat vague imagery and Samain used a similar style in his own work. Here is an example of his poetry, an atmospheric piece called Sleepless Night: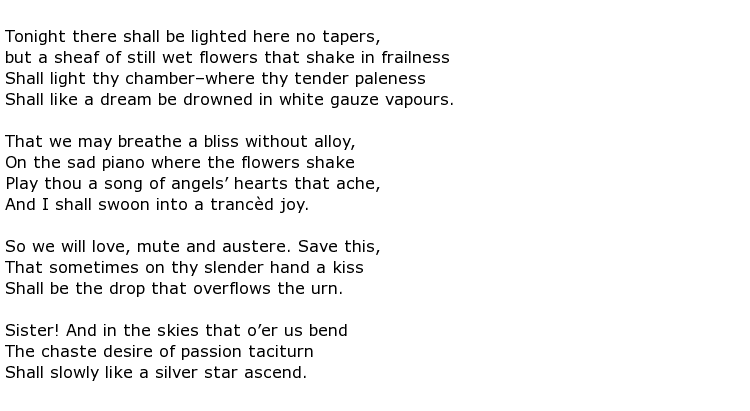 The collection of poetry that established the name of Albert Samain was Le jardin de l'infante which was published in 1893 when the writer was already 35 years old. A second volume came out five years later and was called Aux flancs du vase. Sadly Samain died young in 1900 and a third volume – Le Chariot d'or – was compiled and published a year after his death.
Samain was also heavily involved in two literature and cultural affairs magazines that were both published in Paris. Towards the end of the 19th century he collaborated with other Symbolist writers such as Alfred Vallette, Charles Cross and Alfred Jarry to re-launch the Mercure de France, a gazette which had originally been published some two hundred years before. Additionally he was a contributor to the monthly Revue des Deux.
Some of Samain's work was set to music by composers such as Jean Cras who adapted the poetic drama Polyphème. In 1921 Six Mélodies sur des poésies d'Albert Samain was orchestrated by French composer Charles-Camille Saint-Saëns.
Albert Samain's short life came to an end when he contracted tuberculosis and died on the 18th August 1900, at the very young age of 42.