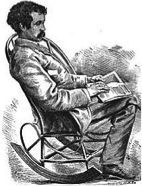 Albery Allson Whitman was a 19th century African American poet who, despite being born into slavery, carved out a career for himself as a poet and orator. He served as a pastor throughout the south and mid-western regions of the United States. His poetry was universally well received and he became known as the "Poet Laureate of the Negro Race". He is included in the anthology African-American Poetry of the Nineteenth Century where his efforts are described as "attempts at full-blown Romantic poetry". Some even compared his verse to that written by well-known American and British authors who wrote in the Romantic tradition. One of Whitman's poems is called Ye Bards of England which extols the virtues of the great literary figures from English history and begins:



Albery was born sometime in 1851 on a Kentucky farm near Munfordville, Hart County. His parents were slaves and the boy grew up working at a variety of manual labour tasks such as railroad construction and in a plowshop. Before winning their freedom his parents had both died and Albery found himself orphaned at the age of 12. Somehow he survived and he did a little teaching for a while before gaining a place at Wilberforce University at the age of 19. He was almost immediately taken under the wing of Bishop Daniel Payne who became his mentor and good friend.
Payne recognised his protégé's talent as a writer and encouraged him to publish his first collection of poetry. After being at Wilberforce for only six months Whitman was a fundraiser and financial agent for the university. With Payne's encouragement he took up the role of pastor, initially in Springfield, Ohio at the African Methodist Episcopal church. Between 1879 and 1883 he travelled throughout the states of Texas, Georgia, Kansas and Ohio, establishing churches wherever the spiritual need existed.
All this time though he was writing poetry and his work was acclaimed by critics and African American readers alike. Not surprisingly many of his themes centred around the divisiveness of the slavery system that had dominated his early life and he campaigned fiercely for a fairer, more ethnically representative society. He was very much in the vanguard of African American poets of the late 19th century, producing a great number of epic-style poems. He wrote using different metrical schemes, employing a variety of complex rhyming methods. He published seven collections of verse in all which included Not a Man, and Yet A Man, published in 1877. In 1901 he published An Idyl of the South: An Epic Poem in Two Parts. Here are the opening two verses of this piece where he waxes lyrical about the beauties of the southern states that are so familiar to him:


Whitman raised a family of his own with his wife Caddie. They produced three talented daughters who became famous as a vaudeville singing troupe called The Whitman Sisters, performing between 1910 and 1930. Unfortunately their father did not live long enough to see them achieve this. He had struggled with poor health throughout his life, not helped by alcoholism.
Albery Allson Whitman contracted pneumonia and died in 1901, aged 50.