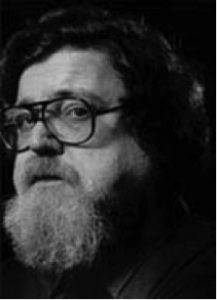 One of the best-known and most popular Canadian poet, novelist and journalists, Alden Nowlan would overcome great adversity to garner acclaim for his work, such as the Governor General's Award and a Guggenheim Fellowship.
He was born January 25th 1933 in Nova Scotia to a dirt-poor family. Gordon Freeman Nowlan (Alden's father) was a labourer. His mother was only fifteen years old when she gave birth to Alden and abandoned the family soon afterwards, leaving behind him and a younger sister. Alden was born into a family who failed to see the virtue of education, and the boy received very little teaching, leaving school at ten. At fourteen, he started work in a local sawmill. His desire for knowledge, however, led him to clandestinely visit a library several miles away, where he started to learn and study. He said of his father's attitude at this time,

At the age of nineteen his confidence and intelligence enabled him to get a job with a Hartland paper, The Observer. Whilst working on The Observer, he displayed a huge work ethic, moonlighting at a variety of other jobs, including spending two years as secretary of the New Brunswick Fish and Game Protective Association. He would use his work as a journalist and newspaper editor to support his passion for writing poetry. His writing style shunned any great literary pretension in favour of raw emotion and honesty, and he wrote in plain style about real life, relationships and nature. His first volume, The Rose and the Puritan was published in 1958, followed by Under the Ice in 1961 and The Things Which Are in 1962, which contained his poem Bull Moose. This poem speaks of Nowlan's despair at the treatment of animals by humans and the contrast between the idiocy of men and the nobility of wild creatures. Here is an extract from it:

Nowlan settled in New Brunswick in 1963 with his wife Claudine and adopted son John. In 1966, he was diagnosed with throat cancer and by 1967 had endured three lots of surgery, which meant he had to quit his job. He didn't fully stop working though. In 1968, he became the University of New Brunswick's writer-in-residence, a position he kept until his death. The University also awarded him an honorary doctorate in 1971. Among his many other honours are the Canada Council Special Award and the Queen's Silver Jubilee Medal.
In later years, Nowlan turned to writing well-received dramas, including A Gift To Last in1978 and Frankenstein in 1981, plus works of non-fiction expressing his admiration for his beloved Canadian landscapes. His last volume, I Might Not Tell Everybody This, in 1982, showed a well-earned maturity and sympathy for the human condition. He wrote:

Nowlan died on June 27th 1983. He is buried at Poet's Corner, Forest Hill cemetery, New Brunswick.