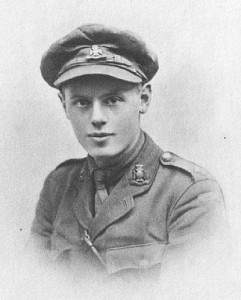 Born in 1897 in Cheltheham, Alec de Candole is perhaps one of the lesser known war poets who produced work during the 1914-18 conflict known as The Great War. De Candole was barely out of his teens when he joined the army in 1917 and was only 21 when he met his death at Bonningues in France the following year.
His small but important body of work of some 85 poems, mostly published after his death, present a snapshot of life on the front line during the war and mark an important contribution to the literature of the time.
Born into a well-to-do family, Candole initially went to school in Cambridge where his family lived but then attended St Andrew's in Southborough from about the age of eleven. He was a talented student and was awarded various scholarships and prizes during his young life which allowed him to gain a place at the private school in Malborough.
With his father following a career in the church, Candole hoped to emulate him and, in 1915, elected to study at Cambridge intending to later take Holy Orders. With the war raging in Europe however, he decided to put this career on hold and left to join the army. He was commissioned to the Fourth Wiltshire Regiment, getting his orders to travel to France in Spring of 1917.
Candole took an active part in the conflict and came back to England for a short period of leave in September. When he returned to the front line he was injured and posted back to Salisbury where he quickly recovered and then joined the Machine Gun Corps.
Candole returned to Bonningues in France but was killed during a bombing raid on the evening of 3rd September 1918 just a few months before the end of the war. He was buried at Aubigny Communal Cemetery in France.

It wasn't until after the war that his poetry came to light and began to be published in selected anthologies. A small volume of work entitled The Faith of the Subaltern was brought out by the Cambridge Press shortly after the war ended but it was the involvement of more well-known writers such as Sassoon that brought his poetry to the fore.

Unlike many of his writing peers, de Candole had a deeply religious upbringing and this comes across in his poetry from his time on the front. Despite the hardship and tragedy he endured, he maintained his devotion to God, something many of the war poets lost quite easily, right up until his untimely death in September 1918.
His collection of 80 or so poems provide an important viewpoint of the life in the war and how a young man at the time saw the conflict.