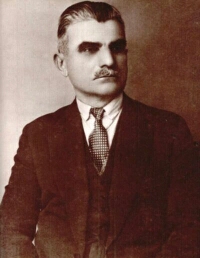 Albanian poet Aleksandër Stavre Drenova was born in 1872 in the small village of Drenovë and was most noted for his verse collections such as Sun Rays and Psalms of a Monk. He wrote under the pen name of Asdreni and spent much of his early life with his father who died when he Drenova was just thirteen.
From then on, he moved to stay with his brothers in Bucharest, Romania, where he also began to mix with some of the literary notables of the time and began to seriously develop his own style. Well educated, Drenova didn't publish his first collection of poetry until he was in his early thirties.
Suns Rays was completed in 1904 and took as its subject the revolutionary hero Skanderbeg, an Albanian noble who was considered one of the major opponents to the expansion of Ottoman rule in the 13th century. The work illustrates Drenova's love of the epic poem and is perhaps his most ambitious work.
It was another eight years before Drenova published his second volume of 99 poems under the title Dreams and Tears. By this time, he was forty and perhaps more popular for his novels than his poetry. The work was dedicated to Mary Durham, an English traveler and artist who wrote a number of anthropological accounts about Albania. She was harshly criticized for her views about the future of the country but found an advocate in Drenova who supported her stance of an independent Albania.

Drenova's third and final poetry collection did not appear until 1930 when he was nearly sixty. Psalms of a Monk is perhaps his least well-known work. He is perhaps more famous for writing the lyrics to what was the Albanian national anthem, titled Oath to the Flag. Drenova also wrote a number of novels during his lifetime and maintained an interest in Albania and its history and development despite living in Romania.

He returned to his birth country only for a brief time during later life, once 1914 and again in 1937, and spent most of his time in Romania where he was a respected novelist and lyricist. Drenova died in 1947 in Bucharest at the age of 75.