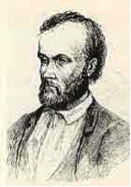 Although Aleksis Kivi is generally regarded as the national writer of Finland he lived a short and unhappy life in the late 19th century. He wrote a significant number of plays and pieces of verse but his major life project was a novel called Seven Brothers which took him ten years to complete. It was an unsympathetic, uncompromising view of rural Finland and did not receive particularly good reviews. It was the first novel that had ever been written in the Finnish language. His literary output ensured that he is still regarded as one of the greatest Finnish writers ever.
He was born Alexis Stenvall on the 10th October 1834 in a small village in the southern part of Finland called Palojoki, in Nurmijärvi. His father was a tailor and had built the house in which his family lived in the very centre of the village. Aleksis also had to share his home with three other siblings and occasionally the tailor's apprentices engaged by his father. There was a travelling school that Aleksis was able to attend and it was soon apparent that he had a talent for literary pursuits. At the age of twelve he was sent to school in Helsinki and from there to the city's university. He studied the theatre here and wrote plays of his own but he was unable to buckle down to enough serious study in order to complete a degree qualification.
He completed most of his writing projects in the town of Siuntio having moved there in 1863. He settled in this location for eight years but his mind was troubled and, during the spring of 1871, he was diagnosed with depression and other mental health problems and was admitted to Lapinlahti Hospital. His brother Albert secured his release and took him to Tuusula in March 1872 where he cared for Aleksis until he died which, tragically, was within the same year.
Kivi's first play was called Kullervo and was based on the tragedy Kalevala. He wrote 12 plays in all and won the State Prize in 1865 for a comedy called Nummisuutarit (The Cobblers on the Heath) which is still performed today. He also produced at least one collection of poetry but it is unclear when this was published. His major work was his rural study called Seven Brothers which attracted unfavourable reviews from the likes of the prominent critic August Ahlqvist who disliked its "rudeness" and the fact that it was written in a south western Finnish dialect. Kivi was drinking heavily at this time as well and it is thought that this alienated many.
An example of his poetry is reproduced here called My Heart's Song. The melancholy tone and despair are obvious in the words, reflecting his state of mind when writing: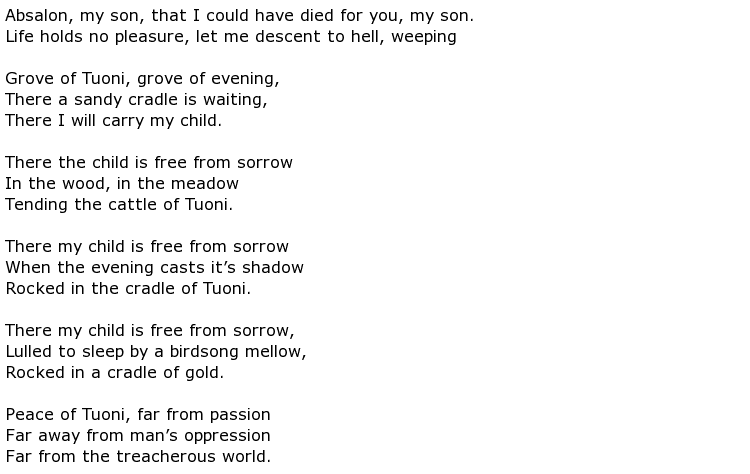 The hostile reaction is some quarters to his work drove Kivi deeper into depression and schizophrenia. His physical health deteriorated as well, not helped by excessive drinking, and he died in poverty on the 31st December 1872. He was aged just 38.
His life has been celebrated on stage and in the cinema. In 1996 the Finnish composer Einojuhani Rautavaara portrayed his life and works in an opera and then, in 2002, the movie The Life of Aleksis Kivi was released in Finnish cinemas.