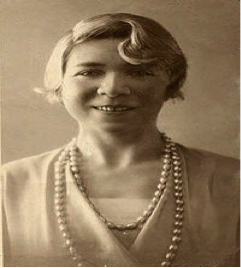 Modernist, feminist poet Alfonsina Storni was born May 29th 1892 in Switzerland to Italian/Swiss parents. Her father previously ran a brewery in Argentina but went to live in Switzerland for medical reasons in 1891. In 1896, when Alfonsina was four, the family moved back to San Juan, then to Rosario where Alfonsina later worked in her father's new tavern.
Aware that she had to earn a living somehow, in 1907 she briefly joined a travelling theatre company, acting in plays all around the country. Afterwards she resumed her studies as a primary school teacher while at the same time working for various magazines. She was already a keen writer but continued to earn money teaching in rural schools. In 1911 she moved to Buenos Aires where she bore an illegitimate son, Alejandro, an event which forced her to work harder and harder. By now she was supplementing her writing with shop work and with a young person's theatre group. But it was here she established friendships with other writers including playwright/poet Horatio Quiroga, who became a good friend.
As her economic situation eased she started to publish her writing. Her first book was La Inquietud del Rosal (The Restless Rose Garden) in 1916, which began to bring her literary recognition and her second volume, El Dulce Daño (The Sweet Injury) in 1918 brought further success. These volumes of poetry showed Alfonsina as a woman of passion; needy for love but also cynical in her attitude towards men. Her poem Little Little Man speaks with barely disguised anger of unrequited love and repression:

She once said that she saw men as "el enemigo" – the enemy – and a lot of her writing showed her perception of the repression of women by men and she took many opportunities through her work to make her feelings clear.
She travelled to Montevideo, Uruguay where she made the acquaintance of feminist poet Juana de Ibarbourou. She published her book Languidez in 1920, a work which received the first Municipal Poetry Prize and the second National Literature Prize.
Alfonsina continued to teach as much as possible and published her book Ocre in 1925, then went on to produce plays and journalistic pieces. However, by this time her physical and mental health were worsening; she was diagnosed with incurable breast cancer. She quit teaching and returned to her first love, poetry, but it is said her writing became more erotic and more forceful in her feminist beliefs.
In 1937 her great friend Horatio Quiroga committed suicide and it appears this exacerbated Alfosina's despair at her failing health. Tortured by loneliness and depression she sent her last poem, called I'm Going To Sleep, to Argentine daily newspaper La Nación. On Tuesday, October 25th 1938 she walked into the sea at La Perla, Mar del Plata and drowned. Her body was found washed up on the beach later that day.
There now stands a monument to her in Mar del Plata.