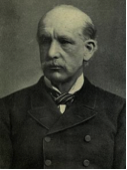 Alfred Comyn Lyall was an English poet and historian who had a distinguished civil service career, much of which was spent serving in India and which led to his eventual appointment to the Privy Council. His time there prompted him to write a great deal about the history of the Indian sub-continent and his literary achievements won him a number of decorations and honorary degrees.
He was born on the 4th January 1835 in the Surrey town of Coulsdon into a comfortable family environment. He went to school at Eton and then on to Haileybury College. By this time he already had ambitions to follow his elder brother who was serving in the Indian Civil Service and, in 1856, he travelled to Calcutta where he undertook several months training. On completion of this he was posted to Bulandshahr in Doab, located in the North West Provinces, as an Assistant Magistrate.
These were perilous times for the British in India and within a year of his arrival the Indian Rebellion started. Lyall almost lost his life when fleeing from the insurgents when his horse was shot and killed while he was riding it. He decided to join one of the irregular cavalry units which were made up of different European nationalities. While serving with the Khaki Risala of Volunteers he helped to restore order in Bulandshahr, and then in Shahjehanpur.
Following a break of eighteen months in England he returned to India towards the end of 1862. He filled a number of senior posts including Assistant Magistrate at Agra and, working his way through the ranks, Commissioner in Berar in 1867. By 1873 he was Home Secretary to the Government of India. Between 1878 and 1881 he played a leading role in establishing a peaceful monarchy in Afghanistan while serving as Foreign Secretary to Government of India. His rise continued through to 1887 when, as Chief Commissioner of Oudh in the North West Provinces, he helped to establish local self-government throughout the area. He also became the first Chancellor of a new university at Allabad.
All this time he was documenting his time in India with poetry, articles and essays about the country and its people. He wrote a poem called Studies at Delhi, 1876, which was his view of a troubled country and his, and others, attempts to make it a better place for everyone. Here are the opening verses: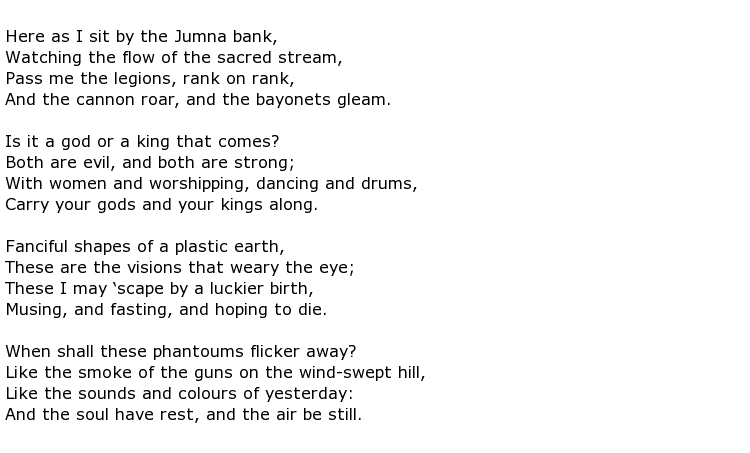 In 1889 Lyall had Verses Written in India published and was responsible for a number of other books about poets such as Alfred, Lord Tennyson and an 18th century Indian Governor called Warren Hastings. He had a passion for Indian history and his literary efforts led to several honours and awards such as an LL.D. from Cambridge in 1891 and he was made an Honorary Fellow of King's College, Cambridge in 1893.
His many years in high office, including four years on the India Council, led to him being made a member of the Privy Council in 1902. From then on he was addressed as the Right Honourable Sir Alfred Comyn Lyall PC, GCIE, KCB.
Sir Alfred died at Freshwater on the Isle of Wight on the 11th April 1911, aged 76.