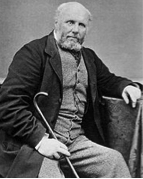 Alfred Domett was a 19th century English poet who also led a distinguished life as a colonial politician in New Zealand. For his work there he was awarded the CMG, the Companion Order of St Michael and St George, which was particularly in recognition of his time as Premier of the country. In almost thirty years of residence there he was a pioneering, sensitive politician and he wrote a great deal about the Maori people of the islands.
Domett was born on the 20th May 1811 in Camberwell Grove, a small Surrey town in the south east of England. He had a comfortable home life as the fourth son of a ship owner. He was well educated, including a period at St John's College, Cambridge. He left there in 1833 and, two years later, decided to pursue a legal career at Middle Temple in London. He studied hard and was called to the bar eight years later.
It seems that he was not an active member of the legal profession, preferring instead to enjoy London life, write poetry and seek out the company of other writers such as Robert Browning, who became a close friend. In fact, Browning wrote the poem Waring based on his friend Domett. Since leaving Cambridge he had managed to get a couple of volumes of poetry published while contributing work to Blackwood's Magazine. One piece received particular attention – A Christmas Hymn. Here are the first two verses of this poem:


He set sail for New Zealand in 1842 where he worked initially as a journalist but then, over the next three decades, filled a number of increasingly important public administrative positions. He was Colonial Secretary for New Munster Province in 1848, Secretary to the Colony three years later and then, in 1862, he was appointed New Zealand's fourth Premier. He served as Prime Minister for two years while acting for the city of Nelson as their parliamentary representative.
Probably his most significant piece of business as Premier was to table a resolution before Parliament to make Wellington the capital of the country in favour of Auckland. His argument was that



This resolution was approved and within two years New Zealand had a new capital.
In 1866 Domett was made a member of the New Zealand Legislative Council but this lapsed in 1874 due to his absence. He had decided to return to England in 1871 yet, curiously, he remained on the council for three more years.
Domett was a prolific writer covering such subjects as the indigenous population of the islands – the Maoris. One of his collections of poetry was dedicated to them and he called it Ranolf and Amohia, a South Sea Day Dream, published in 1872. He also dedicated a book to his friend Browning; Flotsam and Jetsam was published in 1877.
His long and distinguished service in New Zealand resulted in the award of the prestigious CMG in 1880.
Alfred Domett died on the 2nd November 1887, aged 76.