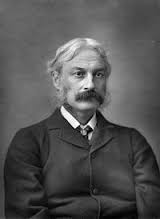 Poet, critic and writer Andrew Lang was born in Selkirk in 1844 and had many interests that ranged from folklore and psychic phenomena to the Greek classics and journalism. Although not coming from an exceedingly well to do family for the time, and being the oldest child of eight, Lang did benefit from a good education and went onto become one of the most prolific writers Scotland has ever produced.
He attended grammar school in his home town of Selkirk before going to the Edinburgh Academy and earning a place at the prestigious University of St Andrews. From there he went on to Oxford where he further studied the classics such as Homer as well as the poetry of France. By this time he was also writing his own compositions and his first published effort in 1872 went under the title of Ballads and Lyrics of Old France.
During his lifetime he often preferred the romance of fiction over realism and was close friends with some of Scotland's writing greats such as R L Stevenson and H Rider Haggard. Although much of his early life was influenced by the countryside and folklore of the Scottish Highlands, by 1875 Lang had decided to try his hand at journalism whilst living in London.
He began as editor for the Longman's Magazine and finally got married at the age of 31 to Leonore Alleyne with whom he would regularly collaborate. His output was at its most prolific from this moment on and he published works in a variety of magazines and papers of the time including The Daily Post and Time magazine.

Although he and Leonore had no children, they traveled widely across Europe as Lang's standing in the literary community began to grow. He was perhaps best known for his works on mythology as well as a number of collections of popular fairy tales. He also worked on translations of classical literature including Homer's Odyssey and the Iliad and brought fresh insights to Scotland's history especially the life of Mary Queen of Scots.
At various intervals he produced creditable works of poetry. After the initial publication of Ballads and Lyrics of Old France, he wrote Ballades in Blue China in 1880 and Ballads and Verses Vain a few years later.
In truth, Lang was perhaps one of the most well known writers of his time, producing several publications each year right up until his death in 1912. In fact, it was not unusual for Lang to publish six or seven works during a single year, writing across a broad range of journalistic, academic and poetic mediums.

He is perhaps best known today for his colored fairy tale books which began in 1889 with the Blue Fairy Book and finished in 1910 with the color lilac and covered over 400 stories from different cultures and countries. His last poetical work came out in 1905 and was entitled New Collected Rhymes and his output is all the more remarkable in that he suffered from long periods of ill health in later life.
Lang finally died at the age of 68 in 1912 whilst living in Banchory, Aberdeenshire.