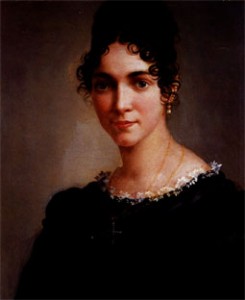 Anna Laetitia Waring was a Welsh-born poet known primarily for her hymn writing who came from a literary family background, with both her father Elijah and her Uncle Samuel having had works of literature published. She was a studious young woman who learned Hebrew for the sole purpose of being able to read the Old Testament in its original form. She always considered all kinds of verse writing as a "pleasant diversion". Her books of hymns were popular, with the first collection Hymns and Meditations, by A. L. W., running to some ten separate editions.
Anna was born on the 19th April 1823 in a small town called Plas-y-Felin, Neath which lies in the county of Glamorgan in South Wales. It is very likely that she lived most of her life here although she did travel occasionally. She came from a family of Quakers but Anna chose to follow the Church of England faith, being baptised into it at the age of 19.
Although she started writing when in her teenage years it took until 1850 for her collection of Hymns and Meditations to be published and it consisted of only 19 hymns. By the time it reached its 10th edition 13 years later the collection had expanded to 38 hymns. She was also a regular contributor to a publication called Sunday Magazine and was best known for the titles such as Father, I know that all my life and My heart is resting, O my God.
As a good Christian soul it was inevitable that she might become involved in charitable and philanthropic work. She concentrated much of her efforts on the Discharged Prisoners' Aid Society and often visited prisoners in establishments including Horfield, in Bristol. These visits went on for a number of years and she described this painful experience thus:



It is likely that this, and other experiences with the poor and disadvantaged, caused her great personal suffering and she transmitted these feelings to her writing. One example is to be found in one of her hymns:



She was a shy author, shunning publicity whenever she could which was unusual for a writer, especially a woman. One critic said that "Few authors are so sensitive or shy of publicity as Miss Waring". She poured her heart and soul into her hymn writing but created very little incident in her lifetime that could have been recorded for biographical purposes. Her work was much admired though and her hymns have been sung as far away as the United States, being introduced there by a minister called F. D. Huntingdon in 1863.
Anna Waring was well liked by all who came into contact with her. She had a gentle and merry spirit and her literary efforts were described as being marked by:



She could have been a great hymn writer but she was certainly a very good one. Here is an example of one of her hymns which is called Tender Mercies: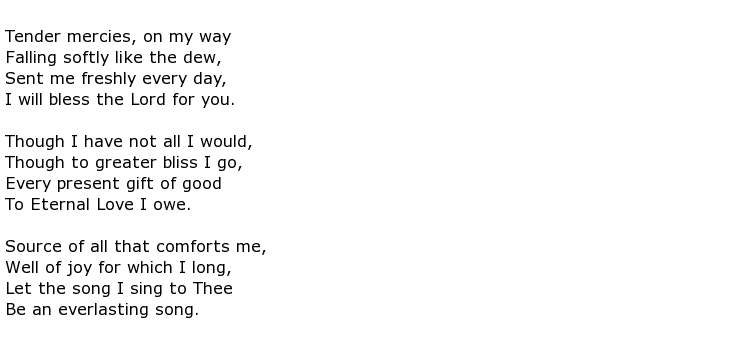 Some critics have, inevitably, found fault in her style and composition while others have commented on their quiet restfulness, reminding readers of these words by Longfellow:
Anna Laetitia Waring died on the 10th May 1910 in the Clifton district of Bristol. She was 87 years old.