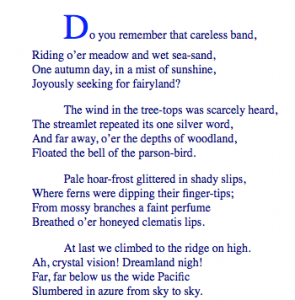 The Australian-born poet, short story writer and artist Anne Glenny Wilson, sometimes called Annie, spent most of her life living in New Zealand. She was well known for her sympathetic portrayals of home values and the Maori way of life and proved to be a popular female writer.
She was born Anne Adams on the 11th June 1848 in the Victorian town of Greenvale, the daughter of a Scottish mother and an Irish father who had emigrated to Australia. Her father, Robert, was a pastoralist who left Annie a substantial sum of money when he died in 1862. She enjoyed an excellent education at the Geelong High School and a Melbourne private school. A very able student, following her school days she went on a long tour of Europe with her mother.
Anne married at the age of 26, changing her surname to Glenny Wilson. Her husband James was a prosperous man who bought over 6,000 acres of farming land in New Zealand and it was here that they set up home, in Rangitikei. She lived here for the rest of her life but still kept her birthplace in mind, using it to inspire her writing. While raising her family of five children she wrote short stories and drew sketches for publication in a number of Australian, American and English journals such as The Spectator and Century Illustrated Monthly Magazine. She made such an impression in England that a volume of poetry was published in London in 1889, called Themes and Variations.
Her work received favourable reviews, prompting a second volume of verse two years later under the title A Book of Verses. Back home in New Zealand two of her poems were used in a government-sponsored children's reading series – Fairyland and A Spring Afternoon in New Zealand were very popular. Here are the opening verses to Fairyland which, despite being aimed at children, displays a quite mature style, perhaps more suited to older readers: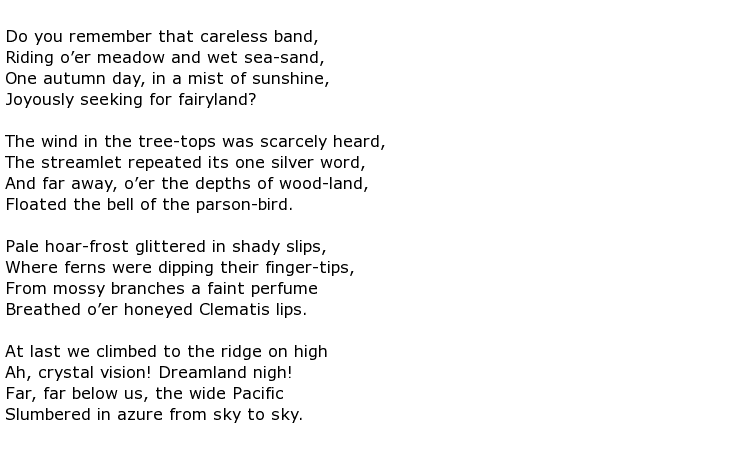 With a nod towards her parents' colonial past, Anne wrote two long novels which highlighted the struggles of coping with a new world, particularly for women. Alice Lauder was published in 1893 and Two Summers in 1900. This was still a time when class was a big issue in England whereas those living in Australia and New Zealand were able to live much more at ease. They were much more tolerant of all classes of people, either from a romantic point of view or just getting on in the world. She saw women of a certain social standing who were still living in the "old world" of European society as much more strait-laced and likely to be constrained by religion and high expectations.
Her home life had its ups and downs, with her husband's management of their farmland sometimes leaving them in straitened circumstances. Luckily her father's legacy kept them afloat and things were alright in the end. A trip to England in 1897 saw Anne's outlook on creative work change dramatically. She no longer published written work but was deeply interested in the applied artistic work of William Morris and took up large scale embroidery projects with some success. Decorated with her sumptuous wall hangings, her home at Lethenty became a grand residence and she was responsible for the design of the elegant gardens.
The house was destroyed by fire in 1914 but a new one rose up in its place and Annie lived there until her death in 1930. She had become Lady Anne Wilson in 1915 when her husband was knighted. Her legacy was of poetry, art and a well-educated and happy family who took inspiration from their intellectual mother.
Lady Anne Glenny Wilson died on the 11th February 1930, aged 81.