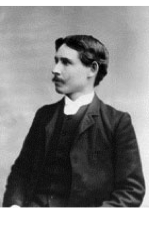 Archibald Lampman was born in 1861 in a small village called Morpeth, close to the shores of Lake Erie in Canada.  His father was an Anglican priest who moved the family when Archie was six years old to Gore"s Landing on Rice Lake, Ontario but the young boy soon fell ill with a severe rheumatic fever which damaged his heart and left him lame for a long period of time.
Despite his poor health he got through school and graduated from Trinity College in Toronto.  It was here that he first became inspired to write poetry, having marvelled over a borrowed copy of a newly published book of poems by Charles G.D. Roberts called Orion and Other Poems. His own poetry that was published in the college magazine and his work later appeared in such prestigious magazines as Atlantic Monthly, Harper"s, and Scribner"s.
Having graduated from college he wanted to teach but gave up on it after a year or so, becoming a lowly paid clerk working for the Post Office in Ottawa for the rest of his short life.  He married at the age of 26 and they had three children, though one died only two months old.  This tragic event cast a dark shadow over the rest of his life.
A friend that he met in Ottawa, a civil servant named Duncan Campbell Scott, got Archie interested in camping and he, in turn, got his friend interested in writing poetry.  Archie had developed an interest in writing about the great outdoors and, in time, became known as one of Canada's greatest ever nature poets, writing in what was, at the time, the current late-Romantic style. He was compared favourably to great English poets like Keats, Wordsworth and Arnold but everyone recognised that he brought a uniquely Canadian feel to his work
A camping trip inspired Archie to write  a poem that became one his classics – Morning on the Lièvre.  Scott and Lampman decided to collaborate with another friend, the poet William Wilfred Campbell, on a literary column for the Toronto Globe between 1892 and 1893.  The column was inspired by the Elizabethan-era Mermaid Tavern and they called it "At the Mermaid Inn" and Lampman said, at the time, that his motivation was to provide financial help to his friend Campbell who was in dire need at the time.
Archie Lampman wrote lyrical, thoughtful poetry throughout his final years but it was clear that his spirits were failing fast.  Not only was his own health so poor but the death of his infant son, Arnold, hung heavy on his weak heart.   One of his poems was about the loss of the boy and he called it White Pansies.  Here are a few verses from it: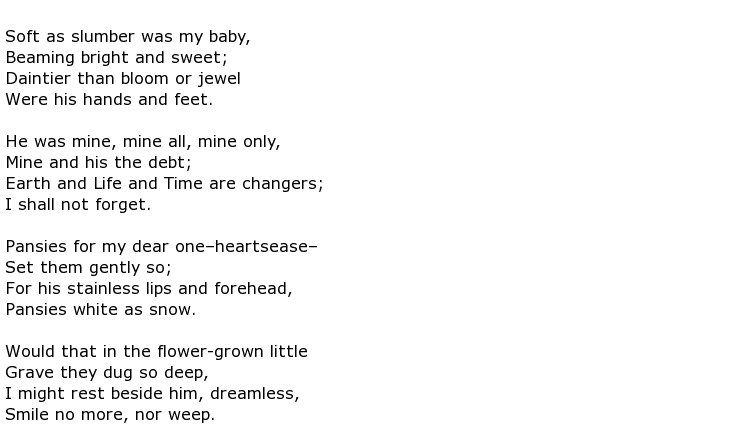 The rheumatic fever suffer that had so weakened Archie Lampman's young heart tragically claimed his life in 1899. He was only 37 years old and he was buried in a place that he had once written a poem about – Beechwood Cemetery, Ottawa.  A simple gravestone carries only his name but alongside this is a plaque with a few lines from his poem In November: