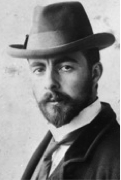 Arthur Henry Adams was a New Zealand-born poet, novelist and journalist who spent most of his time in Australia with brief sojourns in England and China. His early career direction appeared to be heading towards the legal profession but he soon found a niche in journalism instead, on the Wellington Evening Post. He was, at about the same time, in collaboration with a composer called Alfred Hill and the pair of them produced several comic operas and cantatas. Shortly afterwards he started publishing his poetry.
Adams was born on the 6th June 1872 in the town of Lawrence which is in the Otago region of New Zealand's south island. His father Charles was a talented astronomer and Arthur was sent to a boys' high school in Dunedin followed by the University of Otago. He attained a BA here in law but his burning ambition was to be a writer and he began his collaborations with Alfred Hill here. His career as a journalist began in 1895 where he served under the editorship of his uncle E T Gillon. Within three years he was living in Sydney and again working with Hill on a comic opera. A year later saw the publication of Maoriland, his first volume of poetry.
Critics gave good reviews to this collection and several of the poems have since been included in anthologies. An assignment to cover the Boxer Rebellion took Adams to China in 1900 and he relayed some of his experiences in a lecture tour in his homeland during the following year. He then took a trip to London and stayed there for an unhappy three years. A collection of poetry called In London Streets came out of this visit and pretty much sums up his discontent while in England.
Journalistic spells in New Zealand followed before he took the opportunity to join the Sydney Bulletin and take on the editorship of the literature section known as the Red Page. This was Adams's ticket into the literary circles of Sydney society. He was married in 1908 and, during the same year, some of his comedies were performed.   The Tame Cat drew some criticism for the dearth of action on stage but fulsome praise for the author's "sparkling dialogue".
Some of his poetry was of a melancholy nature, an example being an observation of a sudden downpour of rain in the previously dry Australian bush. Here is the poem, titled Rain in the Bush: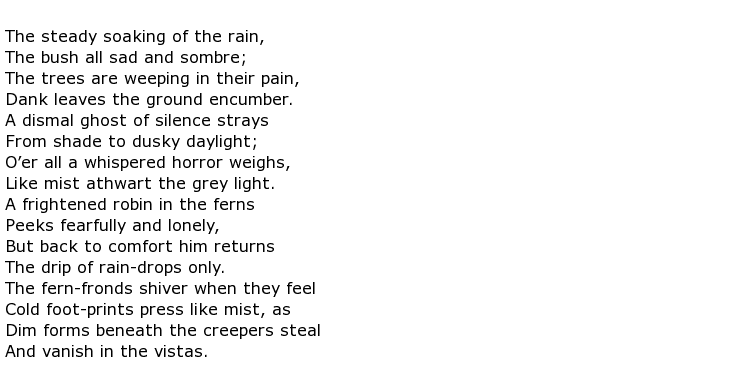 Although an established and competent writer in his own right, Adams was keen to further the careers of other writers and he was able to do so as the editor of the magazine Lone Hand, an outlet for many already well-known writers in Australia. By 1913 Adams effectively announced his departure from poetry writing with the publication of his Collected Verses. Despite spending so much time away from his homeland Adams never forgot his roots and many of his journalist colleagues in Sydney called him "a transplanted New Zealander".
His interest in later life lay in the publication of novels and he wrote a number including an autobiographical one called A Man's Life, published in 1929. The books were notable for their humour and for highlighting the contrast between the everyday, banal life that most people lived and an urge to be creative that lies within so many.
Arthur Henry Adams died on the 4th March 1936 at the age of 63, leaving behind his widow, a son and two daughters.