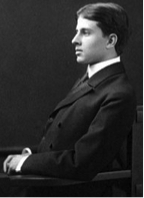 Arthur Upson was an American poet who led a tragically short life which ended when he fell from a boat, either accidentally or, as some suspected, in an act of suicide. In tributes following his death he was described as a promising talent and comparisons were made with the work of Keats and Chatterton.
He was born Arthur Wheelock Upson on the 10th January 1877 in the Camden district of New York. The family moved to Saint Paul, in Minnesota, when Arthur was seventeen years old and he soon enrolled at the University of Minnesota. As part of the "Class of 1898" Upson was known as a very able writer and was appointed editor of the university campus newspaper, known as the Minnesota Daily.
Unfortunately he suffered from ill health even at such a young age and this prevented him from completing his degree course. However, in recognition of the literary talents exhibited while studying at Minnesota, Upson was granted a degree in 1906, at the age of 29. Perhaps his past reputation had some bearing on it when he managed to secure a post as a lecturer at the university. The president of the school, one Cyrus Northrop, was well aware of Upson's writing talents and set him the task of writing a new second verse for the university's own "school song", titled Hail Minnesota.
The original second verse of the song had been written as a tribute to Mr Northrop who was known by the nickname "Prexy". Here are the opening two lines of that verse:

While Northrop was probably honoured, perhaps even flattered, that his name was immortalised in this way, he asked Upson to write a completely new second verse. Here is what he came up with:
The song proved popular and was used at sporting events until it was decided that it was not quite "rousing" enough to inspire sportsmen. The original author, Frank Rickard, penned a new song for this purpose. Some forty years later Hail Minnesota was adopted, by order of the Minnesota State Legislature, as the official state song. It became popular with school children for a time before falling out of favour. However, it has now been restored to prominence.
There is very little record of Arthur Upson's poetic output – a collection of his poems was published posthumously in 1908. One of these is a mournful piece called Old Gardens. Perhaps the words reflect his state of mind and failing health. It appears to be a story of regret and a love lost some time during his life. Here is the poem: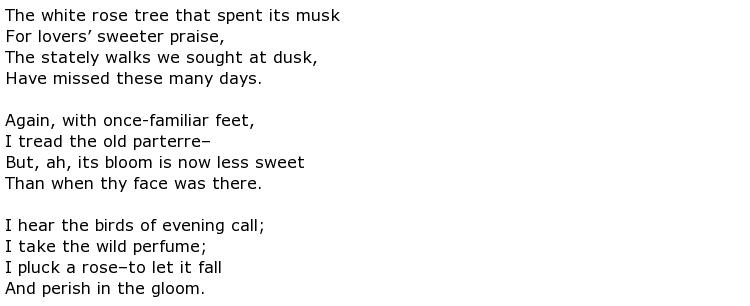 Arthur Upson died on the 14th August 1908 at the tragically young age of 31. His body was found on Lake Bemidji in Minnesota. He had apparently fallen out of a small boat and speculation soon arose about whether it was an act of suicide or simply a tragic accident. He had made one attempt on his own life only three years previously so that theory seems to be a strong possibility.