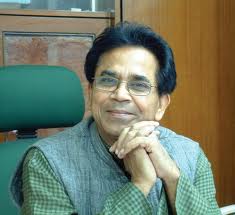 A Hindi poet, author and specialist in comedy and satire, Ashok Chakradhar was born in February 1951 and has developed his craft to a high standard. Little exists in English on the Internet about his background but it is believed that he is related to Kaka Hathrasi, a noted Hindi poet. He is married to Kaka's niece.
Educated well, he has pursued a number of career options, such as professor at the Jamia Millia Islamia University, which is in Delhi. His specialty in satire and comedic prose has won him many national awards, including the prestigious Kailas Gautam Kavyakumbh Samman-2014
Branching out into television and radio, Ashok has scripted many and various poems, dramas and satires, mainly for children and has even acted in some television soap operas. His hosting of "Wah Wah" for SAB TV has won him fame in India and as he was so conflicted in his work, he opted to retire from his position as professor at Hamia Millia in October 2004, after 29 years there.
Since he left he has held positions at the Hindi Academy, Delhi, Kendriya Hindi Sansthan, and for the past 10 years 7 months he has served as the managing director of ABC films, where he has written produced and directed films.
In January 2014, Ashok gained notoriety for a quite public spat with Aam Aadmi's party due to the supposed slight against him when he wrote to retire from his position at the Hindi Academy. Ashok spoke to a newspaper to vent his disappointment that his resignation letter, although sent twice was not responded to. He had no idea of the acceptance until an invitation card came to him with his name replace by AAP leader, Kumar Vishwas, who was also a poet. The card had no mention of Ashok on it. Since Ashok had been associated with the academy for over 5 decades, he was not impressed with this perceived slight.
According to India Today, Vishwas responded as follows:

When it comes to his poetry, many of them are in Hindi and few translate well into English.
However, here is an extract from one of his poems: