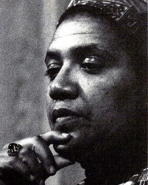 Audre Lorde was a 20th century American writer of often angry poetry and prose which she used as a weapon against social and racial injustice, two conditions that were on her mind throughout her life.  She campaigned actively on civil rights and feminist issues, in particular for the rights of black women who still did not have the recognition that they craved, and deserved.  She once famously said that many black women who



She was born Audrey Geraldine Lorde on the 18th February 1934 in New York City.  Her parents had emigrated from the Caribbean to the predominantly black Harlem district although her mother was of mixed race and some said that she could "pass for a white woman" quite easily.  She grew up with very poor eyesight but overcame this, learning to read and write at an early age, and she was writing poetry by the eighth grade.  Remarkably she chose to change her first name while still a child, choosing to be called Audre.  She explained later that this was in recognition of the


She had a tough upbringing as it seemed that her parents were more interested in developing their business interests than caring for their children.
Despite this she did well at high school up to the age of 17, going on to study for a year at the National University of Mexico, and then returning to New York to attend the Hunter College, graduating in 1959.  Two years later she had a Masters' degree from Columbia University.  She had recognised her own lesbianism by this time and she threw herself into the Greenwich Village scene, although she did meet and marry a man, bearing him two children before they were divorced in 1970.
Her first major move into civil rights issues came in the late 1960s during her time as writer-in-residence at Tougaloo College, Mississippi.  Here she struck up a gay and long-running relationship with a white professor of psychology.  She wrote a great deal of poetry at this time as well, and a collection called Cables to Rage, published in 1970, described her time at Tougaloo.  Lorde took her enthusiastic desire to make things better for black women to Europe in the 1980s, earning a place as a visiting professor at the Free University of Berlin.  She was a major influence in the burgeoning Afro-German movement there.
Lorde's poetry found a voice in a number of black-themed literary publications as well as in collections of published work.  She described herself as a


and portrayed her message on behalf of women – black women in particular – in poems such as Who Said It Was Simple.  The poem is reproduced here: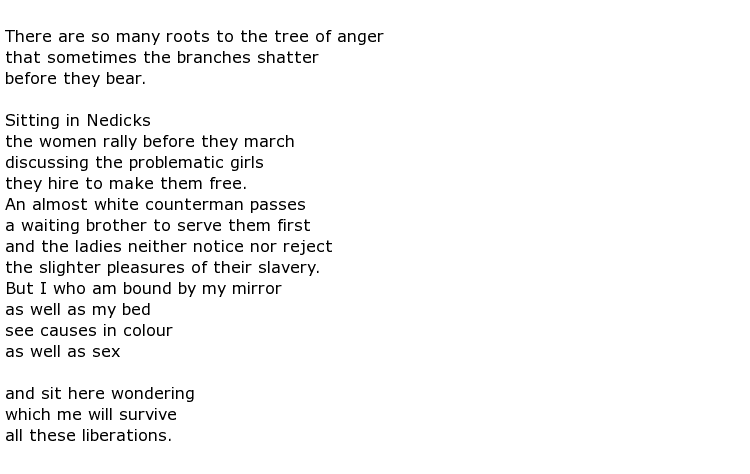 Her work won her a number of awards including the National Book Award for poetry in 1973 and a Lifetime Achievement Award in 1992, known as the Bill Whitehead Award.  She served as Poet Laureate for New York State from 1991 until her death.  Her health had suffered a cruel blow in 1978 when she needed a mastectomy to fight off breast cancer and then, six years later, she contracted liver cancer, a condition that eventually claimed her life.  She chose to write about all of this and her book The Cancer Journals won the American Library Association Gay Caucus Book of the Year Award in 1981.
Audre Lorde died on the 17th November 1992 at the age of 58.  An African naming ceremony was held just before her death where she took the name Gamba Adisa, which translates to