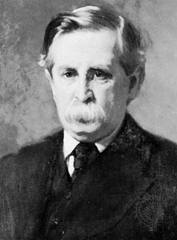 Born in Plymouth in the South of England in 1840, poet Henry Austin Dobson became one of the most distinguished writers of the 19th Century with works such as At the Sign of the Lyre as well as a series of later biographies of influential writers. His father was an engineer with French ancestry and the family moved to Anglesey in Wales when Dobson was just eight years old.
He attended school in Beaumaris before continuing his education in Coventry and traveling abroad to the Strasbourg Gymnase. By the time he was 16 Dobson still had no clear idea of what he wanted to do with his life, intending first to train as an engineer like his father but also attending an art school in the Kensington area of London.
He joined the Board of Trade working for in the harbors authority and married Frances Beardmore, the daughter of an engineer, in 1868. His chosen career was largely unremarkable and it wasn't until he began writing his own poetry that Dobson started to get the recognition he desired. He was helped by the creation of new magazine called St Paul's that started to publish around this time and for which he wrote a number of poems.
Over the next six or seven years he managed to produce enough work that could be put together in a published volume. Vignettes in Rhyme was quite popular and went through a number of reprints and Dobson also attracted a fair amount of encouragement from established writers and poets such as George Eliot.

This was a period of great experimentation in poetry and a group of artists were looking to introduce French forms into English poems. Because of his French background, Dobson quickly came to the fore of this particular movement and published The Prodigals,  thought to be the very first French Ballade to be written in the English language.
He added more work that included English forms of the Rondel and other styles and published his second collection under the title Proverbs in Porcelain. These movements helped Dobson to develop his style more firmly and, with the publication of poems such as The Ballad of Beau Brocade, his place in literary history was settled.

In 1885, he published At the Sign of the Lyre which contained a greater variety of work with ballades and roundels mixed with lighter verses such as the series entitled Fables of Literature and Art. His last attempt at new poetry was published in 1895 under the title Collected Poems with an anthology of his selected works appearing in the first few years of the 20th Century.
In 1902, Edinburgh University awarded him an honorary doctorate for his services to literature and, in his later years, Dobson turned more to prose work, writing biographies of Henry Fielding and Horace Walpole to name just two. He was heavily influenced by the artists and writers of the 18th Century and made an important contribution to the aesthetic movement of the time. He continued to write well into his seventies and died in 1921 at the age of 81.