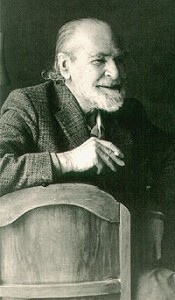 Born in 1900, English poet and writer Basil Bunting was brought up with Quaker roots in Northumberland and he was schooled in Yorkshire and the Berkshire. When war broke out and he was called up in 1918, Bunting refused and was imprisoned as a conscientious objector and sent to Wormwood Scrubs.
Bunting wrote his poetry with a specific emphasis on the quality of sound, and his first poem published in 1925, Villon is a prime example of this. After he was released from prison in 1919, he found himself in London, enrolling in college where he came into contact with journalists and writers and began to become acquainted with their bohemian lifestyle.
He didn't complete his college degree at the London School of Economics but instead dropped out and headed for France where he became friends with the likes of Ezra Pound. It was Pound who helped Bunting work on his poem, Villon, editing and cutting until it was ready for publication. At the same time, Bunting was thrown in prison again, this time for assaulting a policeman, and Pound had to bail him out.
The two went to Rapallo where he got to know Yeats and broadened his knowledge of music by discovering Vivaldi. Bunting also became an expert in the Persian language and would work on a number of translations over the following years. This was undoubtedly why he was taken up by military intelligence at the outbreak of World War II and he worked in Persia and stayed in Tehran until his expulsion in the early 1950s. During his time with the intelligence office, he seemed a totally different character to the conscientious objector who had been sent to prison in World War I, undertaking many dangerous covert operations.

On his expulsion from Tehran, Bunting returned to Newcastle and lived in relative obscurity for a while, working as a journalist, until he was essentially rediscovered in the 60s. The major impetus for this was his long poem Briggflatts which came out in 1965. Part autobiography, the poem harks back to Bunting's youth and his role in the modernist movement of the time. It also explored his love for Peggy Greenback, a sister of one of his friends, for whom he had held a torch. The poem is written in free verse but, as with Bunting's other work, it lays great emphasis on the musicality of the words.

Briggflatts was well received by the critics and is espoused as one of the finest examples of the long poem in the 20th Century. After his brief dalliance with fame in the mid-sixties, which saw him popular with many young poets, Bunting wrote other works such as Two Poems and What the Chairman Told Tom but his popularity waned.
He lived much of the rest of his life in poverty and spent it largely alone. In his later days, he was deeply disillusioned with the political landscape of the West and harked back to the days he had spent in Persia. Bunting died in 1985 at the age of 85.