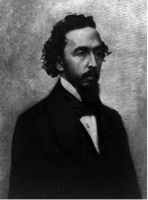 Bayard Taylor was an American born poet of the 19th century who also worked as a translator and literary critic. As well as poetry he wrote a number of travel books. He worked as a journalist on the New York Tribune and other publications and this profession turned out to be his gateway to extensive worldwide travel when sent on assignments abroad. He even turned his hand to lyric writing for famous singers and completed a period of diplomatic service in St Petersburg, Russia.
Bayard was born on the 11th January 1825 in the small town of Kennett Square, Pennsylvania into a Quaker family. His parents were reasonably well off farmers and could afford to give their son a decent education at academies in West Chester and Unionville. Although he entered the printing business as an apprentice he was a keen writer of poetry and took great inspiration from the influential Rufus Wilmot Griswold. Encouraged by Griswold he published his first volume of poems at the age of 19 and called it Ximena, or the Battle of the Sierra Morena and other Poems. It sold badly but was noticed by the editor of the New York Tribune.
He was lucky that his first commission was a European trip covering Germany, Italy, France and England. He spent two years happily travelling at a slow pace, sending reports back to the Tribune. He was also engaged by other publications such as The Saturday Evening Post and The United States Gazette. On his return to the States he was encouraged to publish his first travel book, based on his recent adventures. Views Afoot, or Europe seen with Knapsack and Staff  was published in New York in two separate volumes in 1846.
Further assignments followed but this time within the United States and Mexico. Taylor was now comfortably established in both journalism and as an author. He also had some success with a set of lyrics written for a visiting Swedish singer called Jenny Lind which were sung at concerts around the country.
Within a few years he was off again on his travels, this time to Egypt and other countries in the Middle East. He was inspired to write a great deal of poetry at this time and one example from that period is Bedouin Song. It is reproduced below: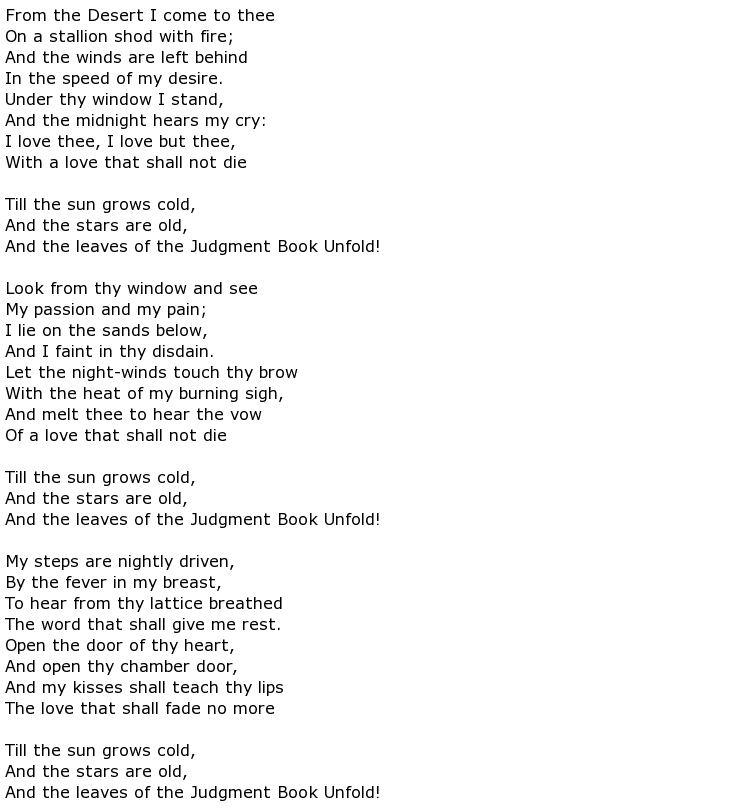 The following year, 1852, saw the beginning of a an even bigger expedition. Starting from England he sailed to India, China and then Japan. He was back in the States at the end of 1853 and then began a successful lecture tour. Two more years passed before the next overseas trip and this time he chose the countries of Northern Europe such as Sweden. Here he was inspired to write a long poem in narrative form called Lars.
Incredibly he found the time to serve as a diplomat and was appointed chargé d'affaires at the United States embassy in St Petersburg in 1863, accompanied by his second wife Maria. The following year they were back home at Kennett Square and Taylor wrote four novels with limited success. Poetry was definitely his forté.
His travelling days were not finished and he was appointed to another diplomatic post, this time in Berlin. Unfortunately he died only a few months after arriving in the German capital.
Bayard Taylor died in Berlin on the 19th December, 1878 aged 53.