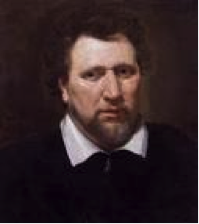 English playwright, poet and actor Ben Jonson was born in London June 11th 1572 to a family believed to be of Scottish descent. His clergyman father died before he was born and his mother remarried. He was fortunate to receive a classical education at the prestigious Westminster School, paid for by a family friend. Jonson wanted to continue his education at Cambridge University but instead was compelled to undergo an apprenticeship with his stepfather, a bricklayer. After this he travelled to the Netherlands where he served with the English regiments of Sir Francis Vere, an eminent English military commander who was instrumental in securing Dutch independence from Spain. Jonson married on his return to London and became an actor and playwright.
Although he is nowadays considered the second greatest English playwright after William Shakespeare his early plays are largely forgotten. It is known that he wrote tragedies as well as comedies but it is comedy for which he is better known. His work left a lasting impression on English stage comedy. The year 1598 was a defining year for Jonson. He popularised the Comedy of Humours; a comic genre based on characters which have particular traits defining their personalities. His play Every Man in his Humour was a satirical comedy featuring the 'four humours'; choleric, melancholic, sanguine, phlegmatic, which were said to represent medieval medicine. In the introduction of the play he explained the formula thus:

He intended this work to combat the trend of romantic comedy popularised by William Shakespeare. In the same year Jonson killed a fellow actor in a duel. He escaped the gallows but received a prison sentence instead.
His next play was Every Man Out of his Humour, the longest play ever written for the public theatre but it flopped, after which Jonson was forced to look for alternative venues for his plays. He wrote Cynthia's Revels in 1600 and Poetaster in 1601, works which demonstrated his disrespect of human behaviour. From 1605 to 1634 in collaboration with costume designer Inigo Jones he wrote masques, an elaborate form of musical drama for the court of King James 1. So successful were these that he was made Poet Laureate and frequently gave readings at court.
Jonson's poetry was said to emphasise grace and clarity of expression, as movingly demonstrated in this extract from his poem On My First Sonne, written after his seven-year-old son's death:

In 1618 he travelled to Scotland and was made an honorary citizen of Edinburgh, though whilst there Scottish poet William Drummond wrote of Jonson that he was "a great lover and praiser of himself, a contemner and scorner of others." On returning to England Jonson received an honorary Masters Degree from Oxford University yet despite the honours bestowed upon him and the prolific output of writing he never made much money from his success. When King Charles 1 came to the throne Jonson continued to entertain the court, though less frequently than before.
He suffered a series of strokes in the 1620s. His writing was of a lesser quality but is still significant for his description of England under the reign of Charles1. He was working on a play with a more pastoral theme when he died on the 6th August 1637. He is buried in Westminster Abbey, London.