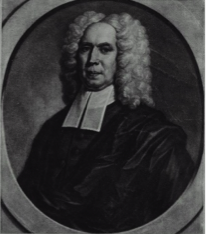 The American non-conformist minister, BenJamin Colman, his name sometimes recorded as Coleman, was considered to be one of the best of his generation. His efforts in this field were recognised by the University of Glasgow who, in 1731, awarded him an honorary Doctor of Divinity degree. He was a skilled and thoughtful poet as well as being a revered minister.
He was born on the 19th October 1673 in Boston, Massachusetts and was educated at the celebrated school of Ezekiel Cheever. He excelled here and went on to Harvard College at the age of 15, gaining a Bachelor of Arts. He then set out to study Theology but soon realised that he needed to be in a more challenging environment if he were to succeed as a minister. He decided to trade the sometimes sleepy, colonial life in New England in favour of a trip to London but the journey was not without incident.
After setting sail the vessel was seriously leaking water, causing much delay in the voyage, and then they came across a hostile French ship bearing down on them. Colman armed himself against the coming assault. Small arms fire was exchanged over a long period. The young minister distinguished himself with his bravery against stronger opposition, helping other crew members in loading their heavy guns as well as firing his own musket. His sensitivities as a young clergyman were sorely tested in the company of these rough sailors. Alas the French privateer overcame them and Colman was taken prisoner and shipped off to France. He eventually gained his release and found himself on the south coast of England, in Portsmouth.
With help from others he made his way to London and soon found a safe haven amongst fellow clerics and was appointed to a position in the west country town of Bath. His experiences during the journey Europe and his imprisonment shaped his future character and, of course, his writings. He met a lady who he became so besotted with that he was moved to write a poem in her honour. Her name was Miss Singer and here is the poem, So Paradise Was Brightned, So "Twas Blest:



Colman returned to his homeland in 1688 and became pastor of a church in Boston and he remained there for the rest of his life. His skills as a minister and his good character attracted the attention of his old college at Harvard and, in 1724, he was offered the post of President. Perhaps humility had a bearing but he turned down the offer, saying that he had too much affection for his work with the church and that the Presidency was "above his capacity".
He was certainly revered amongst his contemporaries as a minister, displaying a gracefulness and dignity in the pulpit that impressed all who heard him preach. His poetry demonstrated an admirable ability in the use of language and thought processes. Many of his pieces were, naturally of a religious nature, an example being A Poem On Elijahs" Translation and he also wrote a number of elegies to great men that he had known or heard of. Perhaps his longest piece was a historical epic called The History Of Colonel Nathaniel Bacon"s Rebellion In Virginia.
Benjamin Colman led a good life but it came to an end one day in August 1747. He was 73 years old.