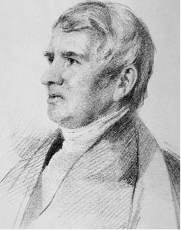 Bernard Barton was a writer of poetry and hymns. His had a religious upbringing and is often referred to by literary critics as the "Quaker Poet". He lived in various parts of the country and was employed at different times as a tutor and a bank clerk while writing poetry in his spare time. His good friend, the writer Charles Lamb, tried to get him to give up the bank work in favour of being a full time poet.
He was born on the 31st January 1784 in the Cumbrian town of Carlisle which lies in the far north west of England. His parents were both of the Quaker faith but he lost both of them early in his life. His mother died when Bernard was just one year old and his father, John Barton, a manufacturer, remarried and took the family south to London. They soon moved again though, this time a few miles north to Hertford where John took up employment in the beer malting business.
Then, at the age of five, Bernard lost his father and his step-mother moved her family to Tottenham in north London. He was sent to be educated at a Quaker school, in the Suffolk town of Ipswich. He left school at the age of 14 to take up an apprenticeship in shopkeeping in Halstead, Essex and he ended up marrying the owner's daughter in 1807. Tragedy continued to haunt him though as, within a year, his wife died during childbirth.
Barton spent a year tutoring in Liverpool but he then returned to East Anglia, not far from where he had been at school. He spent the rest of his life there, in the Suffolk town of Woodbridge, spending much of it as a clerk working at Messrs Alexander's Bank. This did not prevent him moving amongst literary circles though and he befriended such famous writers as Charles Lamb and Robert Southey among many others. The children's writer Anne Knight also lived in Woodbridge and he lodged at her house for a time. The pair collaborated on some of her books, Barton writing poems for inclusion.
His first published work appeared in 1812 and was a book of poetry called Metrical Effusions. On a much more serious note, Barton wrote about what he perceived to be the unjustness of the penal code and the prevalence of the death penalty. The Convict's Appeal was published in 1818. Other collections of work included Napoleon and Other Poems (1822) and Poetic Vigils in 1824. When he published Household Verses, in 1845, the then Primer Minister, Sir Robert Peel, was so impressed by Barton's poetic ability that he awarded him a pension amounting to £100 per year.
Despite that, literary history was not kind to Bernard Barton. Much of his poetry has been, for the most part, overlooked although some of his hymns are still sung. Search the hymn books and you will find such titles as Lamp of our feet, whereby we trace and Those who live in love shall know are still. Here are the words to Lamp of our feet: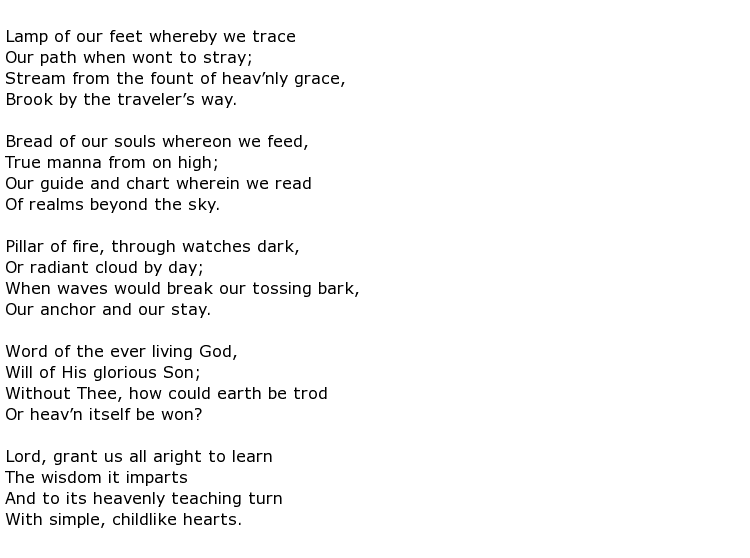 During his lifetime Barton was known to possess a simple yet amiable character, a man of letters who did not offend anyone or anything. Besides writing he also had an interest in art and he owned a lot of paintings, sharing this passion with the artist Thomas Churchyard.
Bernard Barton's quiet life ended on the 19th February 1849, at the age of 65.