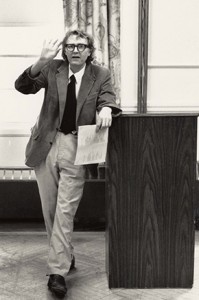 Born in 1940 in Michigan, an orphan who spent his fifteenth year incarcerated in a mental hospital and faked his death at just the age of 26, Bill Knott, also known as Saint Geraud, was one of the most enigmatic American poets of the 20th Century.
Often verging on the surreal, Knott's poetry covers a range of subject matter from the way we are destroying the planet, love and relationships, to the aging process and approaching death and everything beyond.
His mother died when he was 6 and his father 5 years later and the young Bill Knott was sent to an orphanage, something that caused him to have a nervous breakdown. Consequently, at the age of 15 he was placed in an asylum for a while, something which he later said was hell on earth and he tried to block the experience from his mind.
Afterwards he lived with his poverty stricken uncle, went to high school and then spent a couple of years in the army. He took a Masters at Norwich University and went on to be an outstanding teacher.
Knott was unusual for a poet in the latter part of the last century, whilst his work was produced through several of the big the big publishing houses, he ended up self-publishing a lot of it and, in the internet age, made it freely available through his various websites.

In 1966 a letter was sent out to poets, critics and newspapers to say that Bill Knott was dead. At the time he wasn't particularly well known but the letter caused something of a stir. Nothing was heard until a collection of poems was published in 1968 under the name Saint Geraud, which turned out to be a pseudonym. The poetry collection had been written by Bill Knott and news of his death had been greatly exaggerated.
Faking his own death was only one of Knott's elaborate stunts and many believe it was all a part of his life performance and went hand in hand with his poetry. He often used to write fake bad reviews of his own work and could often be found in a bookstore, editing his own published work. The poetry collection under the pseudonym of Saint Geraud was The Naomi Poems and marked him out as one of the bright new voices of the late 60s.
For over 25 years, Knott taught at Emerson College and was noted as an individualistic and generous teacher, often buying his students textbooks because he reasoned they shouldn't have to pay for them. He wrote his collection Becos in 1983 and Outremer followed in 1988 which won the Iowa Poetry Prize. When the internet came along, however, he saw platforms like social media and video blogging sites as a way to reach out to his public and started to self-publish on sites like Amazon as well as posting his verses for free on his blogs.

In March 2014 Bill Knott went into hospital for an operation on his heart and died from complications. He was 74.