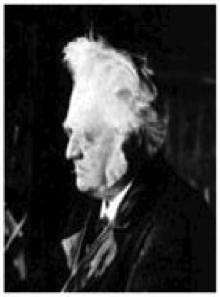 Bjørnstjerne Bjørnson holds quite an esteemed place in the history of Norwegian literature, being one of the so-called "De Fire Store" (The Four Greats). He is rated equally alongside Alexander Kieland, Jonas Lie and Henrik Ibsen. He also holds the honour of being the poet who produced the words for a song that became his country's National Anthem – Ja, vi elsker dette landet.
He was born Bjørnstjerne Martinius Bjørnson on the 8th December 1832, the son of the local pastor of his hometown Kvikne. When Bjørnstjerne was only five years old the family moved to a scenic part of the country near Molde where is father became pastor in the small parish of Nesset. Bjørnstjerne was educated in Molde and then attended the Heltberg Latin School in Christiania, the same establishment that also taught Ibsen and Lie. He followed this with a spell at the University of Oslo, graduating in 1852 having realised for some time that he wished to become a famous poet.
His first step on that journey though was as a journalist where he wrote critical pieces on stage plays that he saw in Oslo. He started working on a "peasant" novel and Synnøve Solbakken was published in 1857. Over the next ten years he produced three more titles which are known as bonde-fortellinger (peasant tales). He developed this theme further, writing a dramatic piece which was performed in 1857. He had a deep interest in Norwegian folk lore, this first production being set in the 12th century.
By this time he was the theatre director at Bergen, a post he held for two years before deciding to broaden his experiences with travel. Returning first to Christiana he then set off on his European travels over a period of three years. On his return he settled down to writing more dramatic works, some of the humorous variety like De Nygifte (The Newly Married) which proved to be very popular. His collection of poetry called Poems and Songs appeared in 1870 and he followed that with an epic cycle of lyrical verse called Arnljot Gelline. Here is a wistful example of his verse, called I Passed By The House: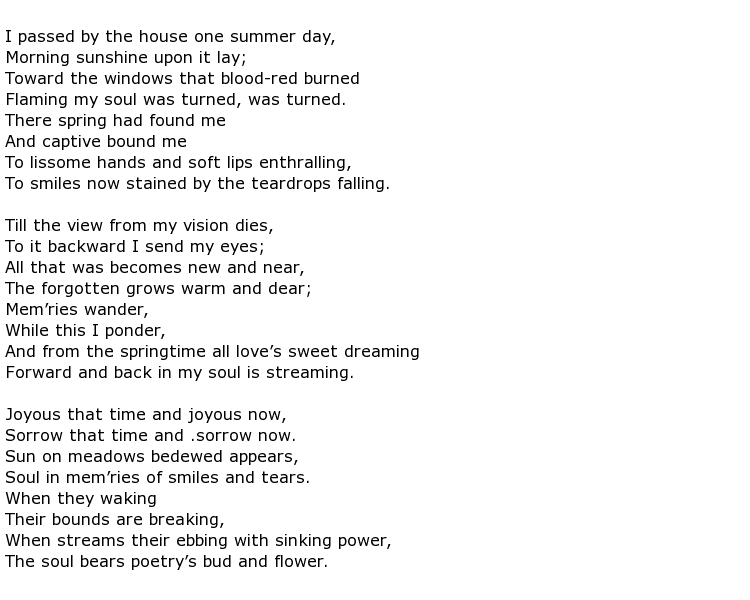 While Bjørnson's passion was for writing novels, plays and poetry he continued to work as a journalist and supplemented this with the occasional lecture tour. He had a strong social conscience and introduced many of his radical ideas into his work. His republican feelings were demonstrated in his polemical play Kongen (The King). He was also keen to show the world that he cared about social issues and these found a voice in many of his plays, as he struggled to achieve more recognition as a playwright. He went too far though and found himself exiled in Germany for a time as the authorities accused him of high treason.
When he returned to his homeland he concentrated more on short stories and novels. He still agitated for a national language to be introduced to replace the dansk-norsk that was used in most Norwegian literature up to that time. He also wrote about the struggles of people in places like Hungary and Slovakia. A lifetime of devotion to Norwegian literature finally won him the Nobel Prize in 1903.
Bjørnstjerne Bjørnson died in Paris on the 26th April 1910, aged 77. His status in his homeland meant that his remains were conveyed back to Norway and he was buried with honours.