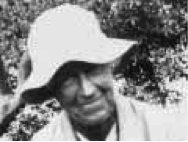 Blanche Edith Baughan was a naturalised New Zealand poet, occasional teacher and shepherdess and also a campaigner for penal reform and social justice for the poor and disadvantaged.
She was born on the 16th January 1870 in Putney, South London, the younger of six children. She lost her father when aged only ten but grew up with a decent education, going on to gain a first-class honours degree in the Classics from the University of London in 1891. With ambitions to become a good poet she spent much of her time writing and she eventually released her first collection. She called this Verses and it was published in 1898. As well as writing though she took a keen interest in social work amongst the slums and deprivation of East London districts such as Hoxton and Shoreditch.
She did some European travelling as well, taking in Germany and Switzerland and then heading north for Norway and Sweden. On her return she had to spend time caring for her mother who was now diagnosed as a psychiatric invalid. She somehow found the time to do a little teaching, finding a position teaching Greek to the young Duchess of Bedford. From this privileged position she was able to focus on the stark difference between the haves and the have nots and this increased her interest in bringing about social reform. Making her way in the literary world was never far from her mind though.
At the age of 30 Blanche emigrated to New Zealand but spent her first few months touring the Pacific islands close by and then visiting the Victoria Falls in South Africa. Within two years she was relatively settled in a small, isolated community called Chorlton on the Banks Peninsula. She took her surroundings, which were a relatively new colony, as inspiration for her verses and two poems, Young Hotspur and The Old Place, were initially published back home in the London publication The Spectator. They eventually found their way into a published collection called Reuben a year later, in 1903.
Here is one of those poems – The Old Place – which is written in a kind of drovers dialect as it describes the hardships of moving sheep to the coast and on to market and then the narrator's sadness at leaving this place that she has called home for many years: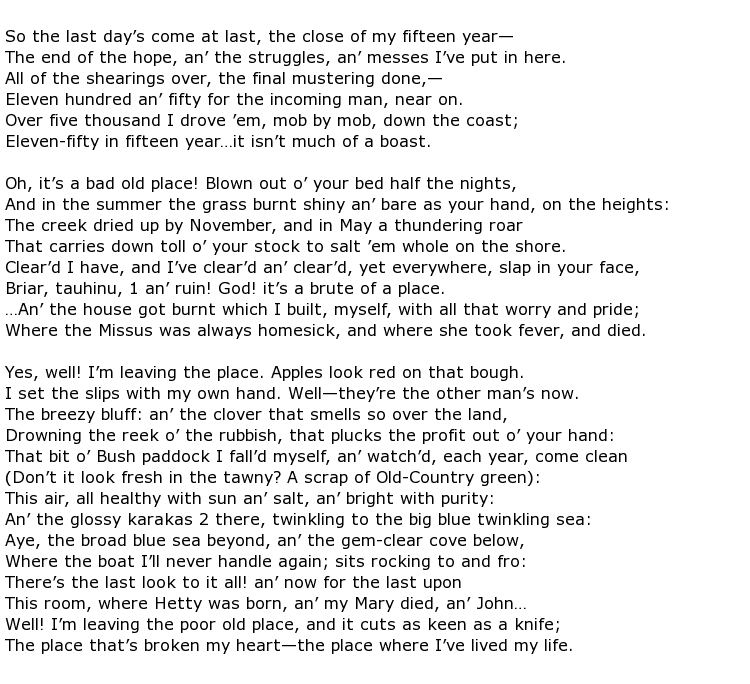 Her next published volume – Shingle-short and other verses (1908) showed her to have a modernist poetic style, often confusing the reader with the juxtaposition of imagery. At one time it appeared sordid, and then switched to something pleasing and picturesque. The rhythms of her lines were often unpredictable but she was certainly an innovator in many ways. From 1910 onwards though her creative muse faded following an illness, and she wrote very little poetry after that time.
She found time to write occasional essays on the natural beauties of New Zealand and many of these were published in the Spectator. From 1920 onwards she dedicated much of her time to campaigning on behalf of prisoners who, she felt, needed better and fairer treatment. She created a New Zealand branch of the Howard League for Penal Reform in 1924 and worked tirelessly to make the whole system better, concerning both the welfare of inmates and the education of prison officers. From 1930 she turned her house in Akaroa into a kind of probation hostel for released offenders. Unfortunately her efforts were not always appreciated by the authorities.
Blanche Edith Baughan's long and busy life ended on the 20th August 1958 at the age of 88.