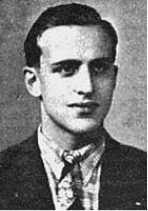 Boris Vian's life in 20th century France was short and yet he managed to cram a great deal into his short life. Apart from being a writer of many plays, novels, poems, songs and opera librettos he was a qualified civil engineer and jazz musician. Music was probably his first love as, in truth, his writing did not meet with as much success as he would have liked. At one point he consciously gave up on the writing of novels and stories, preferring instead to concentrate on the music.
He came into the world in March 1920 in Ville d'Avray, a suburb of Paris. His family were upper middle class and they lived in a comfortable villa until 1929 when the Wall Street Crash changed everything. It was soon apparent that the young Boris would never enjoy good health and, by the time he was 12, he suffered from both typhoid and rheumatic fever. These ailments were to have serious consequences as he was left with a weakened heart which would eventually lead to a tragically early death.
Despite his poor health he was able to train as a civil engineer and he took up that occupation in 1942, working for the French Association for Standardisation (AFNOR). He was able to do so because he was not deemed fit for military wartime service. Earlier though he, and his brothers, followed a kind of Bohemian lifestyle while still at school and they organised wild parties where participants took mescaline and other substances. He called them "surprise parties" and wrote a poem of the same name which leaves the reader in no doubt regarding the nature of these gatherings: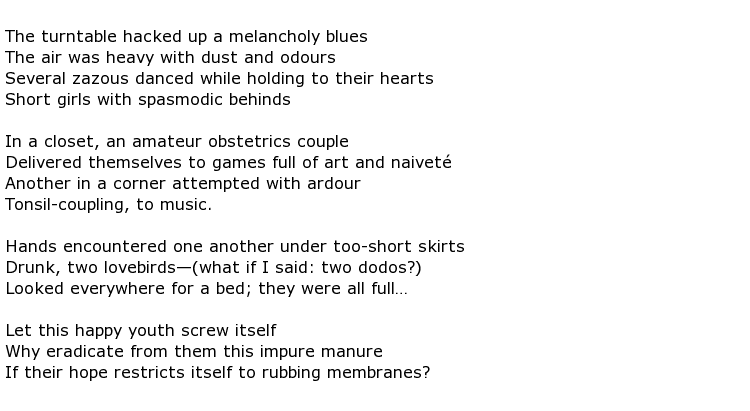 He wrote of these experiences, producing two novels between 1943 and 1944. Before this though Boris took up the jazz trumpet in 1936 and performed at a well known club. He managed to pass his exams though, gaining enough qualifications to go on to the Lycée Condorcet in Paris, until 1939. Here he got involved in the organisation of a Paris concert for the famous musician Duke Ellington.
As war broke out Vian found himself at a Parisian school of the arts but the school soon relocated to Angoulême to avoid the worst of the occupation by the Nazis. He married at this time and his new wife taught him English, which led to him taking on a number of translations into French of American texts. A diploma in metallurgy was gained from the École Centrale which was his entry into civil engineering.
He was though, by now, an accomplished jazz musician while endeavouring to establish himself as a serious novelist. None of his books sold well until he unexpectedly moved into the world of the "hard-boiled" story writer and he had success with titles such as



He was moving in elevated literary circles and was acquainted with such as Jean-Paul Sartre and Simone de Beauvoir while making regular contributions to jazz magazines. He found that he was making enough money from writing and playing in jazz clubs so was able to leave his employment with AFNOR.
Two poetry collections came out in the late 1940s – Barnum's Digest and Cantilènes en gelée (Cantelinas in Jelly). His novel writing career effectively ended in 1953 due to a series of failed attempts and the rest of his life was more or less devoted to song writing and screen plays. He wrote a song for the English singer Petula Clark when she performed the first of many concerts in France.
His health was getting gradually worse though and when invited to a screening of a film of I Spit on Your Graves he was so enraged by the interpretation that he collapsed in his seat and suffered a fatal heart attack.
Boris Vian died before he could reach hospital, on the 23rd June 1959. He was just 39 years old.