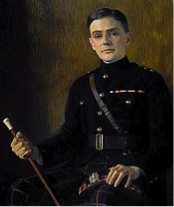 The Scottish writer often known as C K Scott Moncrieff was most famous for his translation of Marcel Proust's seven volume novel À la recherche du temps perdu into English, which he renamed Remembrance of Things Past. This work, although critically well received, was not entirely to the liking of the originator and Proust wrote to Moncrieff to tell him so. A further translation was published in the 1990s by another author who used a title closer to the original French – In Search of Lost Time.
He was born Charles Kenneth Scott Moncrieff on the 25th September 1889 in the Stirlingshire town of Weedingshall, the son of a Scottish Advocate. At the age of 14 he was sent to the south of England to be educated at Winchester College. It was here that the first stirrings of his homosexuality appear and, in 1908, he published a short story called Evensong and Morwe Song. This appeared in a literary magazine called New Field, which he edited himself.   It was a scandalous piece at the time, featuring the implied fellatio between two public school boys, one of whom goes on to become headmaster of a school where he expels a boy for the very same thing even though he has actually seduced the expelled boy himself. The story was picked up by a Uranian publisher in 1923 and circulated privately, but hastily suppressed.
It is not clear when they were written but Scott Moncrieff appeared to have a liking for childishly bawdy verse and here are a couple of (untitled) examples of his work:

After Winchester, Scott Moncrieff studied Law and English Literature at Edinburgh University, following these two degree courses with a MA course in Anglo-Saxon. He graduated with first class honours in 1914 and he used the latter studies when he set about translating Beowulf in 1919. Any literary or academic ambitions were put on hold though with the outbreak of the First World War and Scott Moncrieff took a commission in the Kings Own Scottish Borderers regiment. He served on the western front for three years before being invalided out of the service due to a serious leg injury which almost caused him to lose the leg. He won the prestigious Military Cross during his wartime service.
He took up an appointment at the War Office while also writing for G K Chesterton's literary magazine New Witness. In his official role he tried to engineer a favourable home posting for fellow poet and soldier Wilfred Owen so that he could be excused the horrors of the front. It was suspected that homosexual motivation was behind Scott Moncrieff's actions, but it didn't work. Tragically Owen was killed towards the end of the war and Scott Moncrieff's actions generated suspicion amongst the likes of Osbert Sitwell and Siegfried Sassoon, two poets who had served on the front themselves.
After the war he settled in Italy, citing health reasons for this, living in Pisa, Florence and Rome. He continued to write and carried out translations of medieval French works into English. In 1921 he completed the translation of the first part of Proust's epic work, with further sections being published gradually over the next nine years. His work on the project ended in 1930 with The Sweet Cheat Gone, leaving one more volume to be completed by someone else due to his early death from stomach cancer, at the age of 40, that same year.
Charles Kenneth Scott Moncrieff, MC died on the 28th of February 1930 at Calvary Hospital in Rome and his remains were buried in the Campo Verano.