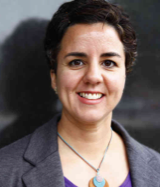 Carmen Giménez Smith is an American poet and lyric essay writer.  She has filled posts as a university lecturer on the subject of creative writing along with editorial positions.  She also acts a publisher of a company called Noemi Press.
She was born on the 20th February 1971 in New York City but her parents moved the family to the bay area of San Francisco which is where Carmen grew up.  She gained her first degree, a Bachelor of Arts, from the San Jose State University and she then joined the creative writing program at the Iowa Writers' Workshop.  Here she gained a Master of Fine Arts degree before joining the teaching staff as a Teaching-Writing Fellow.
Her latest academic post is at the New Mexico State University, as assistant professor in the Master of Fine Arts Program in Creative Writing.  Her talent as a writer has meant that she has been in great demand outside of academic circles as both a publisher and in editorial work for the university literary magazine called Puerto del Sol.  She also champions women in the literary world as a committee member of an organisation called VIDA: Women in Literary Arts.
Giménez Smith has won a number of awards for her poetry including the Juniper Prize which was awarded for her third collection of poems, titled Goodbye, Flicker, published in 2012.  The following year her collection called Milk and Filth won the National Book Critics Circle Award (Poetry).   In 2010 she was awarded the American Book Award for her memoir, Bring Down the Little Birds.  Around the same time she produced three "chapbooks" which are a cheaply produced, soft back publications which are more leaflet than book.  The first was called Glitch (2010) and this was followed by Reason's Monster and Can We Talk Here in 2011.
Much of her poetry is written in a prose-like, almost abstract style that defies any "normal" rules of poetry.  She is obviously keen to portray the Hispanic identity of her origins and, as one literary reviewer has said, she often does so displaying



Her subject matter is diverse.  She might choose hard-hitting subjects like gang warfare, as in the poem Decoy Gang War Victim.  Then she will write an almost dream-like piece about contemplating the ocean while sitting on the beach, naked on a towel.  This poem, Photo of a Girl on a Beach is reproduced here: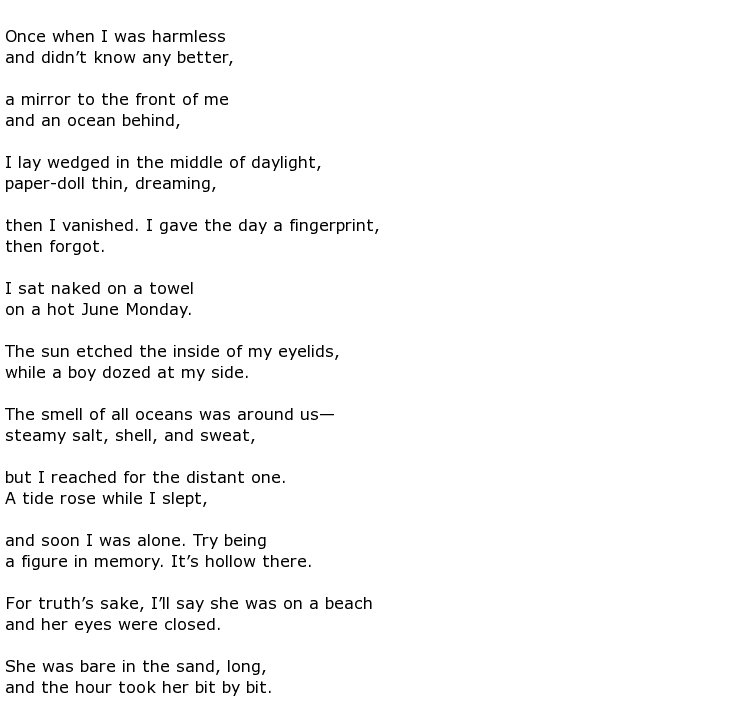 Her family background naturally leads her towards the exploration of Latina identity, particularly related to women's lives in often difficult environments.  A critic wrote in the New Mexico Magazine, that she writes poetry in the style of



As well as being responsible for at least four of her own collections of poems, her work has also featured in anthologies such as Floricanto Si! U.S. Latina Poets, published in 1998, and Contextos: Poemas which came out four years earlier.
Now in her late forties, Carmen Giménez Smith lives in New Mexico with her husband, fellow writer Evan Lavender-Smith.