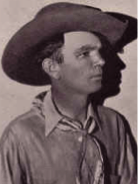 "Curley" Fletcher was an American cowboy poet and song writer but, as one would expect, he had a number of other occupations at various times, if for no other reason than to ensure that he had a reasonable income. These included prospecting for minerals, appearing at rodeos as a champion rider and, of course, he was often just an ordinary, run-of-the-mill cowboy/cow hand. As his writing came to prominence he was noticed by the film industry moguls in Hollywood and he both appeared in and advised on a number of cowboy-themed movies. While the imagery in his poetry was much admired and respected in its own right, many of his pieces were set to music and turned into popular songs. The best known of these was a classic of the cowboy genre called The Strawberry Roan. The original poem was included in a 1915 collection called Ballads of the Badlands.
He was born Carmen William Fletcher on the 22nd September 1892 in San Francisco. His mother was an Italian immigrant and his father an English sailor. The family, which numbered six children in all, lived in a small town called Bishop (formerly known as Bishop Creek) which lies in Inyo County, California. At some point the boy adopted the name Curley and it stuck and, at the age of 22, he married his childhood sweetheart – Minnie Edna Flesher. Tragically, after about ten years of marriage, she died and Curley was broken hearted.
He was alone for some twenty years or so before remarrying, in 1945. No doubt his writing and film work sustained him during these lonely years. He was also a musician and music publisher and promoter, reinforcing the fact that this was a multi-talented cowboy! The poignancy in some of his compositions compelled other singers and singer/songwriters to use his material. Famous names such as Marty Robbins and Michael Martin Murphey have recorded his songs.
Fletcher's Hollywood acting career took second place to his writing and music. One example of his on-screen achievements was when he appeared as a rancher in the Gunsmoke movie, released in 1947. This, of course, became a long-running television series some years later and was shown around the world.
Before this though, in 1931, he had a collection of his poems published under the title Songs of the Sage, and this was reprinted and enjoyed all over again by readers in 1986. This was a classic collection of cowboy stories of the 19th century, a delight for those who love the wide open spaces, mountains and rivers of the mid-West and the people that populate such places. Here cowboys, sheep men, mule skinners and prospectors roamed the prairies in search of their fortunes and Fletcher brought them to life, often in the most startling of ways. He accurately used the language and idioms of the time, writing his poems in the way that those men would speak to each other in their day-to-day lives. His classic The Strawberry Roan, having been in an earlier collection, was included in this later book and is a perfect illustration of these times. The opening verses are reproduced here: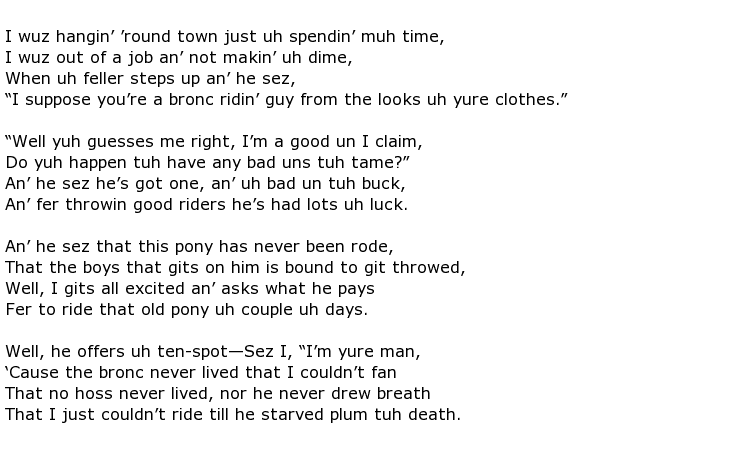 This, and many other titles, were produced during the writer's lonely years between his two marriages. Sadly his second marriage, to Joan Putters in 1945, was also destined to be relatively short, lasting only nine years up to his death.
Curley Fletcher died on the 5th September 1954, just short of his 62nd birthday. He was buried in his hometown of Bishop, California.